Asia-Pacific Forges Ahead on Trade Deal Without India
As the U.S. and China try to reach a partial trade agreement covering the world's biggest economic engines, there's another massive deal taking shape with plenty of its own twists and turns.
Asia-Pacific's Regional Comprehensive Economic Partnership looks set to move forward in 2020. RCEP partners lost a key member on Monday, though, with India dropping out amid worries the pact would bring an influx of cheaper Chinese goods that would leave its own labor force vulnerable. India's steel industry expressed "great relief" as this threat of "predatory pricing" went away. 
Expect months more of negotiations on the final details, with approvals by the remaining 15 economies to trickle in after that. The RCEP drama is a bit of a redux of the fate of the Trans-Pacific Partnership, now the Comprehensive and Progressive Trans-Pacific Partnership, which started with 12, only to see the U.S. exit for domestic political reasons.
The key difference this time around: China. Everything goes back to the U.S.-China tiffs these days, and RCEP is no different. China is, at once:
At the core of India's withdrawal from RCEP
The biggest promoter of a deal that would highlight how Asia's economies are linking more closely without the U.S.
A big reason that some economies might now have an even tougher time getting RCEP approved at home
On that last count, analysts have floated the possibility that too much Chinese dominance of RCEP — particularly as Asia's third-biggest economy has backed away — is a risk for other members. Japan, for one, is keen to pitch this as a broad Asia-Pacific deal rather than a China-led one. For now, China appears to be getting its way anyway, with at least 15 partners committed after seven years of talks and some 30 rounds of negotiations.
Even without India, RCEP would be big. The 15 members have a combined gross domestic product of about $25 trillion with some of the fastest-growing constituencies in the world. As usual, the politics will complicate things, with last-minute disagreements on taxes, tariff reduction timelines, and labor remaining potential pitfalls.
Is the U.S. worried about the alliance? Not really. "It's a very low-grade treaty," U.S. Commerce Secretary Wilbur Ross told Bloomberg News in a recent interview.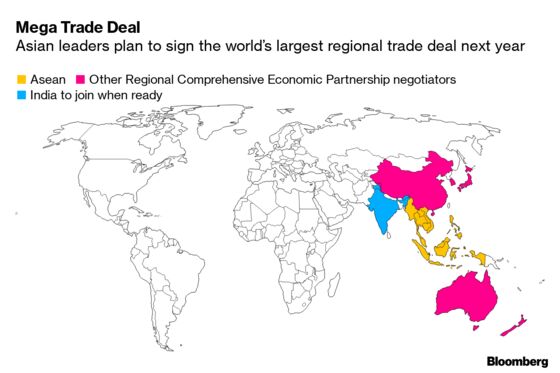 Uncertainty index | Rising uncertainty has been a key factor forcing the ECB into a fresh round of easing.
Extended slowdown | The Bloomberg Economics outlook shows China's full-year growth in 2020 below 6%.
Nov. 7: Australia trade balance
Nov. 8: China, Germany and France trade balances