The World's Big Export Engines Turn Gloomier by the Day
Manufacturing engines around the world are turning gloomier by the day.
A collapse in exports pushed Germany to the brink of a recession in the second quarter with total economic output contracting. At the same time, business confidence in Europe's largest economy is at its weakest in almost seven years.
On the other side of the globe, South Koreans are at their most pessimistic since January 2017 as trade woes depress consumer moods. The Bank of Korea's monthly consumer sentiment index dropped to 92.5 in August from 95.9 the previous month.
There was a warning for Singapore, too, with debt restructuring experts predicting a tide of bad corporate debt in the city-state that serves as a large hub of international shipping.
Those three bellwethers of global trade are all taking hits tied to the U.S.-China tariff battle that shows few signs of cooling off: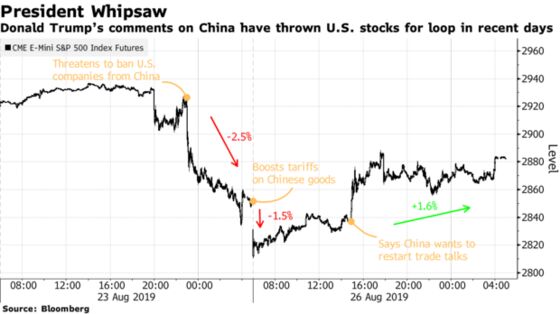 Put a whipsaw on a roller coaster and that's how some traders would describe the recent spate of swings in U.S. stocks, kick-started again by a barrage of Trump tweets.
Euro challenge | EU trade negotiators are in the hot seat doing a deal with the U.S. 
Import diversion | Mexico sees a $3.9 billion windfall from the U.S.-China trade war.
Aug. 29: U.S. merchandise trade balance