Trade Hawks in China and the U.S. Emerge as Phase-One Winners
There's been a temptation throughout President Donald Trump's trade war against China to regularly assess which side is winning. To which most economists answer: No one wins when tariffs mean everybody's economy suffers.
Except that answer feels wrong. Because it's the hawks that are winning the trade war. On both sides.
That's the real lesson of the deal announced by the world's two largest economies last week.
If all goes as expected, a year from now the U.S. is likely to still have new tariffs in place on the vast majority of imports from China. Which is the main reason those in Washington cheering for an economic war with Beijing had reason to be quietly chuffed this past weekend.
Friday's deal canceled a new swathe of tariffs due to take effect Sunday and halved the rate on a tranche of existing tariffs. Yet it leaves a 25% import tax on $250 billion in goods and a further 7.5% duty (down from 15%) on $120 billion in other products.
Most of the criticism of the deal in the U.S. has focused on the missing substance, or the fear this first phase of a bigger deal may not be followed by others.
The text won't be available until next month at the earliest. But it does appear that, when it comes to structural reforms, two years of economic warfare managed to extract little more than a codification of existing commitments by the Chinese.
China's intellectual property promises sound very much like those included in IP regulations that went into effect a year ago.
A foreign investment regime passed earlier this year outlaws the forced technology transfer the new pact seems to.
Currency commitments in the outline of the deal are akin to G-20 pledges already in place.
Opening up the financial services sector further to foreign firms is something Beijing has already announced.
The biggest pledge is to purchase $32 billion more in American agricultural products over two years as part of a larger $200 billion buying spree over the same period. The goal is a doubling of U.S. exports to China, Robert Lighthizer, Trump's trade czar, said on Sunday.
If you are a true hawk, however, that's all window dressing to make the conflict politically palatable at home. The remaining tariffs are the real victory. They are the only thing that matters.
For hawks in China, meanwhile, the reasons for victory look slightly different.
The tariffs are a minor bump in the road to China's hardliners. The economic war itself has solidified Xi Jinping's hawk-friendly image as the leader who stood up to foreign bullies and gave up little he didn't want to because of China's own interests.
The painful reforms Trump was promising to force never materialized. The industrial subsidies that were the jet fuel for the rise of many Chinese companies in recent decades are still in place. Even so-called reformists are penning essays about the role of a bigger and better state sector — not the need to shrink or do away with state-owned firms.
China, moreover, may never have to make many of the purchases it has agreed to make, if you want to be really Machiavellian. Trump cut a deal. But he's about to be impeached. There is time to see how it will all shake out. And there are no new tariffs to come.
Let doves cry. It's good to be a hawk.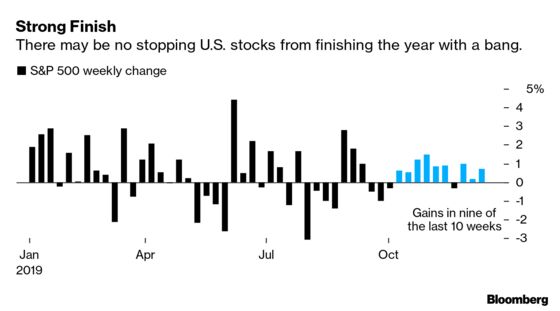 With market risks such as a Federal Reserve rate decision, the U.K. election and -- to some extent -- trade uncertainty waning, the S&P 500 Index has an opportunity to continue its strong run of weekly gains.
Growth outlook | Bloomberg Economics explains what dodging December tariffs means for 2020 GDP.
Stalling sales | South Korea's auto sales may be sluggish on weak consumer demand.
Dec. 17: Japan, European Union trade balance
Dec. 23: South Korea exports and imports
Dec. 30: U.S. advanced goods trade balance