Tariff Threats Rock Global Economy in 24 Hours of Pain
President Donald Trump's threat Thursday to put 10% tariffs on the remaining $300 billion of Chinese imports that aren't subject to his existing levies sent markets tumbling from Asia to Europe and early in the U.S. on Friday. The new tax would hit American consumers, and businesses are going to face even more supply disruptions. China has already vowed to retaliate if Trump follows through.
Bloomberg Economics' initial estimate of the additional costs of U.S. tariffs and Chinese retaliation sees both economies taking a 0.2% hit to GDP by 2021. 
Meanwhile, a simmering trade fight between Japan and South Korea is boiling over, putting the health of two Asian export powers at stake. In Europe, concerns are mounting for a hard U.K. exit from the European Union.
Here are the big developments of the past 24 hours: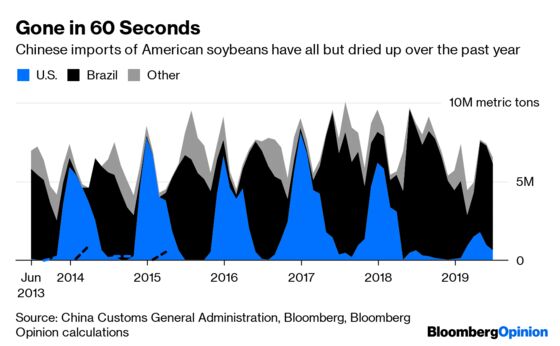 Bad news for U.S. farmers: China has already started sourcing agricultural products from other countries and temporary measures like this can end up sticking.
Apple fallout | The tech giant might endure margin compression of about 200 bps or more if it opted to keep prices stable and absorb the new 10% tariff threatened by Trump.
Battered Korea | Japan's decision to remove South Korea from a list of trusted export destinations will add downward pressure on Korea's already-ailing economy.
Aug. 7: France trade balance
Aug. 8: China trade balance
Aug. 9: Germany trade balance