Trade Won't Fade as a Big Disrupter in 2020
President Donald Trump's trade instincts and his administration's efforts to deliver them as policy have been a dominant force in economics and markets over the past three years. You'd have to be brave to argue trade policy won't be disruptive again in 2020. So here's some related ideas and predictions — some contrarian — to carry into the new year.
Step back and it's hard to see how even if its substance is viewed optimistically the "phase one" deal with China that Trump is expected to sign Jan. 15 will rewrite the economic relationship between the world's two biggest economic powers over the long term. Think about it this way: A president with a disdain for rules who accuses a rising economic rival of ignoring existing rules is hailing the delivery of new rules. Some day economic historians may well identify something incongruous in that mix.
The confrontation with China is probably only just beginning. The trade wars in their 2019 form have been a distraction in many ways from a more fundamental shift in the relationship and technological competition that had begun even before Trump took office.
It's tempting to call the U.S.-China tussle the existential fight of our time, as many in Washington do. But anyone who lived through even a portion of the Cold War or the 1980s economic rise of Japan and the Asian "tigers" knows history has a way of bending unpredictably.
Tariffs are likely to be Trump's biggest economic legacy for years to come. But one effect may not be what you think. America's history is littered with flirtations with import taxes, and the political pattern is clear. Almost every episode of protectionism yields a backlash.
Elections have policy consequences. But polls regularly show Americans are less protectionist than they have been in decades. Thanks at least in part to Trump. According to Gallup, 74% of Americans last year saw trade as an opportunity for economic growth, the highest reading in a quarter century. Just 21% saw foreign imports as a threat versus 48% in 1992. Support for trade jumped noticeably among both Democrats and Republicans after Trump took office in January 2017, according to the pollster.
There is already an election-year narrative developing that Trump's Democratic rivals are likely to be as protectionist as Trump. Yet that may end up being the product of a lazy reading. Even long-time trade hawks like Elizabeth Warren and Bernie Sanders have, if you read and listen carefully, offered a more nuanced version of trade policy than the current president. Sanders has repeatedly accused Trump of recklessly misusing tariffs and causing unnecessary pain for farmers and manufacturers.
Will the world of trade policy ever revert to a semblance of its pre-Trump self? The 2020 U.S. presidential election will go a long way to deciding what the future of the post-war liberal order will look like, or if any of it survives at all. But it's worth setting a calendar reminder on your phone for June 8-11. That's when trade ministers from the World Trade Organization's 164 members will gather in Kazakhstan for their biennial conference. They may have a say as well.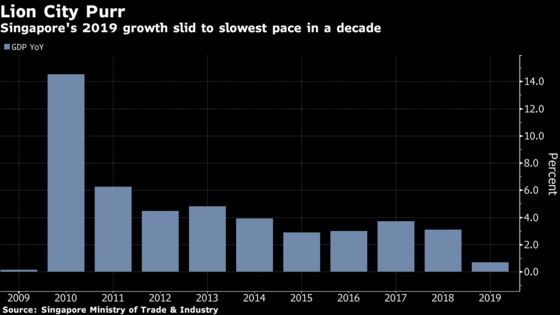 Singapore's growth in 2019 slid to the  slowest pace of the decade on subdued global trade outlook dragged the export-reliant economy. Gross domestic product rose 0.7% year-on-year, according to an advance estimate released Thursday by the Ministry of Trade and Industry.
Spring thaw | A rebound may be coming for the U.S. economy after a winter of cooler business confidence.
Tensions ease | Factories' shift away from China may persist at slower pace after trade deal.
Jan. 7: U.S. trade balance
Jan. 8: France trade balance
Jan. 9: Germany trade balance