What a Long Strange Trip 2019 Has Been for Short-Haul Truckers
Life on the road is never easy. But 2019 was a particularly grueling year for truckers in the Los Angeles area who've seen their paychecks get smaller and less predictable as cargoes through the two main ports slowed down.
For short-haul drivers like Hector Padilla, business in the weeks before the December holidays came in with a "whimper" rather than the usual "roar."
Things should be looking up for those cargo volumes after China and the U.S. agreed to a partial trade deal the U.S. says commits Beijing to buying more of American goods over two years and pares some tariffs. The deal could be good for business at the twin ports of L.A. and Long Beach, which serve as the top U.S. gateway for sea-bound Chinese trade.
But truckers around L.A. won't be popping champagne corks for the New Year just yet. With so many ups and downs over the past two years, many are asking themselves if the trade war has led to irreversible change in trading patterns. Duties on hundreds of billions of dollars of Chinese goods remain in place, and if China violates its promises the U.S. could start escalating tariffs again.
"We are the first people at the forefront of feeling the trade war — next to the farmers," said Gerald Rogers, another L.A. area trucker.
Here's more of a sampling from people in the industry:
Lidia Yan, CEO of NEXT Trucking, an online marketplace connecting short-haul drivers with jobs, said: "When things are going well in the trucking industry, independent drivers and small fleets can make a healthy living based on a few, tight relationships. When the market is volatile, they have to expand their networks, working with more brokers or taking loads off load boards where forced scheduling or low pay are an issue. It isn't just income that's impacted, it is quality of life."
Avery Vise, vice president of trucking for industry research firm FTR, said this about spot market freight volumes: "The West Coast started the year relatively stronger year-over-year than most regions, but that advantage evaporated by May. Since August, the West Coast has been one of the poorest performers. Freight rates in the spot market generally have followed the same pattern. The West Coast has been harder hit than other regions."
Jason Parker, director of North American trucking at Flexport, a freight logistics provider: "Peak season fell flat this year, and many carriers have been asking for volume. That's not normal. In a typical year, the holidays through January is the busiest time and carriers can't get all their work done. That's impacting the trucking labor market as well. Carriers that are shipping well under previous levels due to the tariffs have been struggling to retain drivers. Carriers are planning for more of the same in 2020."
Padilla, who is based in the L.A. area, said "peak season for us truckers is an opportunity. It's like the truckers' Black Friday. I would say no that didn't happen that year. A lot of people were saying the same thing — hey when is peak season coming?"
(Editor's note: Bloomberg's Terms of Trade newsletter is taking a break over the next two weeks and will return to your inboxes on Jan. 2. Happy holidays and thanks for reading.)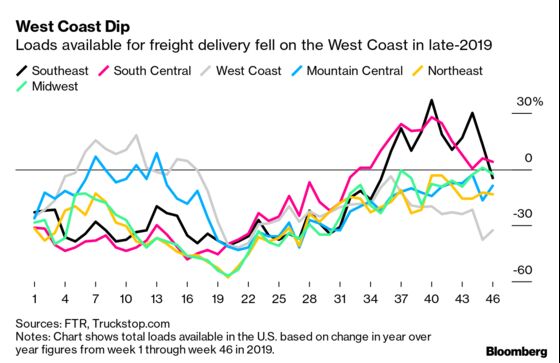 2020 vision | Read Bloomberg Economics' world forecasts for the year ahead
Oh, what a feeling | Toyota's shipments to rise in 2020 amid stagnant global auto sales.
Dec. 23: South Korea exports and imports
Dec. 24: CPB World Trade Monitor
Dec. 30: U.S. advanced goods trade balance