China's Economy Reawakens to a World Recoiling as Virus Spreads
It can't be an easy time to be a Chinese factory owner. At the turn of this year, with a trade deal with the U.S. about to be signed, the future looked brighter. The global economy seemed to be stabilizing, and the great slowdown in China was under control. Then the coronavirus erupted in Wuhan, and the world changed again.
A painstaking process of restarting production after weeks of shutdowns across the country is making progress, according to a range of energy, travel and output indicators.
For example, demand for coal to make electricity this week was the highest it's been since Jan. 21, but it's still about 20% below where it was this time last year or in 2018.
Bloomberg Economics estimates that the Chinese economy was operating at 80% to 85% of normal capacity as of Friday.
But the workshop of the world looks to get walloped again. The global economy is shutting down by the day, as the viral outbreak spreads to China's biggest customers — the developed markets of Europe and the U.S.
Manufacturing companies across China told Bloomberg News that the emerging challenge now is demand, not supply. "We are actually more worried about the development of the epidemic in Europe and the U.S., which will affect their domestic consumption," says Mark Ma, owner of Seabay International Freight Forwarding Ltd. in Shenzhen.
The double whammy means China is facing its first quarterly economic contraction in decades and the weakest year since the early 1990s.
"The feedback loop is emerging," said Trinh Nguyen, Hong Kong-based senior economist at Natixis. "As China recovers and resumes its supply chains, it will be hit by demand shocks from its own subdued demand and an increasingly infected world."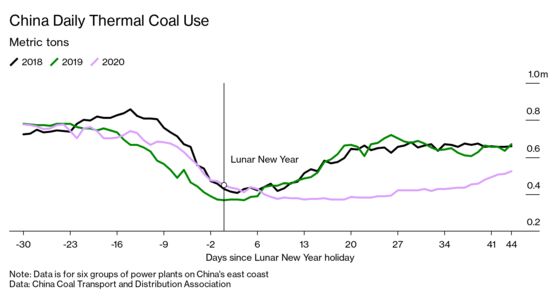 Slow progress | China's economy looks to be 80%-85% back to normal productive capacity.
Hong Kong insight | An oil market rout is set to worsen virus drag on  the Hong Kong economy.
March 17: Japan trade balance
March 18: EU trade balance