Brexit Was Tough. The Next 10 Months Look No Easier
Think four years of political noise over Brexit will subside now that the European Union and Britain are set at last to kick-off negotiations on their future trade relationship? Think again.
Politics will be at the forefront of the EU-U.K. talks due to begin on Monday in Brussels. As a result, businesses must take seriously the risk of tariffs and quotas on two-way trade reemerging as of January 2021, when the post-Brexit transition that maintains the economic status quo is due to end.
Traditionally, the politicians spend months, even years, grandstanding and promising the electorate prosperity from their proposed policies, then hand things off to the technocrats to toil away in obscurity on hundreds of pages of minutia contained in your average trade deal.
But the past week has offered plenty of evidence of the political fireworks to come in EU-British ties over the coming months. It started with each side accusing the other of ditching past promises and ended with the U.K. government threatening to abandon talks halfway through the year.
Political divergences over the whole matter belie economic similarities that result from Britain's almost half-century of EU membership. Like a couple whose long marriage ends without mutual consent, London and Brussels know each other well and their haggles reflect not misunderstandings but rather principle, pride and posturing.
The central sticking point is an EU call on the U.K. to continue following the bloc's rules in policy areas such as state aid, the environment and employment. For Prime Minister Boris Johnson, such a demand for a "level playing field" is tantamount to disregarding the will of the 52% of voters who backed Brexit in the 2016 referendum (and of those who handed him a landslide election victory in December).
The degree of future U.K. regulatory alignment with the EU is essentially a technocratic question with high political stakes. Consequently, even with skilled negotiators seeking imaginative solutions, the issue is a potential deal-breaker that would leave both sides imposing tariffs and quotas on each other's goods by defaulting to basic World Trade Organization arrangements.
So stay buckled up for the next bruising phase. The Brexit drama is done, long live the Brexit drama!
(To sign up for Bloomberg's daily Brexit Bulletin, click here.)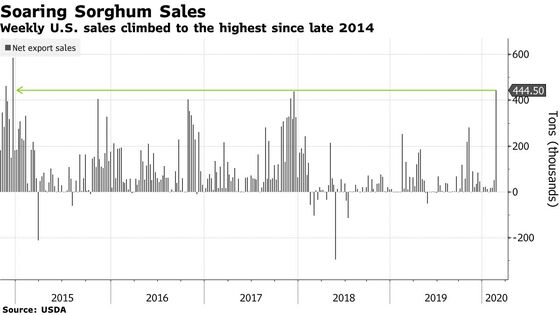 American sorghum sales soared to a five-year high as the grain proves to be one of the few big crop winners seeing a significant demand boost from the newly enacted U.S.-China trade pact. Net export sales climbed to 444,500 metric tons in the week ended Feb. 20, government data show. It's the first week of reporting since the phase-one deal between Washington and Beijing went into force. 
Freight fright | Air-freight volume will struggle with stalled manufacturing and diminished trade cargo.
Back to work | China's economy continues to crawl back, but still has a long way to go to get fully back in business. 
March 1: South Korea trade balance
March 6: Canadian merchandise trade
March 7: China trade balance