Africa Pushes Ahead on the World's Largest Free-Trade Zone
Cross-border trade in Africa brings to mind trucks backed up at border posts, corrupt officials and the smugglers trying to avoid them, and just all-around petty bureaucracy. That translates into delays, frustration and higher costs. No doubt it has limited trade between nations on the continent to just 15% of all export and import commerce compared with more than 70% in Europe.
In 2020, that's all supposed to change — or at least begin to change. The African Union, which will this year be under the leadership of South Africa, is backing the creation of the world's biggest free trade zone by area, the Africa Continental Free Trade Area.
Of the continent's 54 nations all except Eritrea, a country in the horn of Africa that rivals North Korea in its isolation, have signed up. In an agreement that's supposed to be in full force by 2030, tariffs on 90% of goods will be dropped and there will be free movement of people and a liberalized market for services.
The goal of greater economic integration across Africa has long been to help some of the world's poorest nations. Now the project is even more important because it would provide greater negotiating strength in an environment where the top economic powers are at each other's throats. The U.S.-China trade war may be calm for now, but the African continent remains a key proxy in Beijing and Washington's longer-term battle for global supremacy.
Next week the U.S. and Kenya are expected to announce they're starting negotiations on a free-trade agreement during President Uhuru Kenyatta's visit to the U.S. capital.
In the Africa-wide deal,  the winners initially will be the most developed nations — South Africa, Kenya and Egypt — which have the manufacturing bases that can produce the goods Africa's growing middle class wants. Still, there are measures to cushion the blow for less developed nations, and leaders ranging from South Africa's Cyril Ramaphosa to Ghana's Nana Akufo-Addo are enthusiastic advocates for the deal.
But, with truck drivers waiting for days in baking heat at border posts and South Africa's government struggling to contain regular eruptions of xenophobic violence, turning the optimistic rhetoric around the deal into reality will take a level of political will rarely seen on the continent.
Check out the full story in this month's issue of Bloomberg Markets Magazine.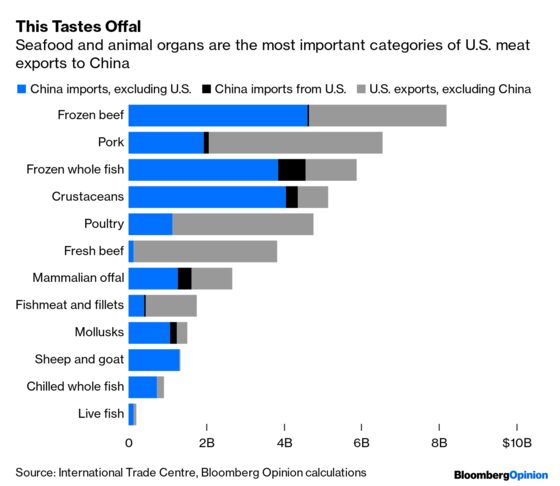 Modern Americans strongly favor lean cuts on their plates, but China's appetite for tripe, liver and kidneys means offal imports from the U.S. are worth about six times as much as the beef trade at present. At a time when as much as 40% of the U.S. food supply is wasted, there's a pleasing symmetry to a trade deal that allows commerce between China and America to heal by letting the two countries divide their meat into the bits they respectively like best, says Bloomberg Opinion's David Fickling. 
Count on contagion | The coronavirus may slow China's GDP to 4.5% and ripple more widely around the region.
Europe's silver lining | The euro area's economy posted a bad fourth quarter, but better times are expected ahead.
Feb. 1: South Korea's trade balance
Feb. 7: German trade balance