Will These Ships Carrying U.S. Commodities Make It to China?
(Bloomberg) -- A small flotilla of ships carrying cargoes of U.S. commodities worth hundreds of millions of dollars may be headed to China even as the country plans to raise tariffs on some products June 1.
While the goods in transit won't all be directly affected by the change in tariffs, their movement can be indicative of the state of relations between the two countries or the level of concern that fresh duties will be levied. For example, the flow of U.S. crude shipments to China has dwindled this year even though oil is not subject to tariffs.
For those commodities targeted by duties, ships have been known to change destination or speed up in order to avoid additional costs.
Following is a table of commodity vessels that are under way, scheduled or expected to head for China according to ship tracking data, Kpler, trading sources and ship-broker reports. The data are subject to change and are not exhaustive.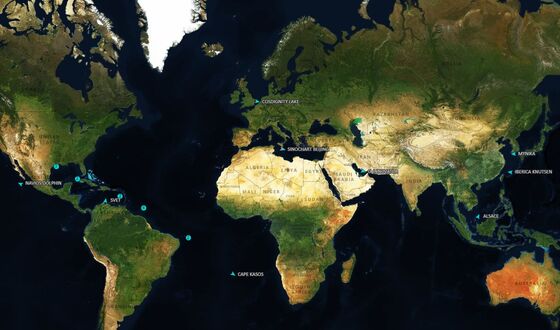 Vessel name

Cargo type

Loading port

Destination

Loading date

Estimated arrival date



Alsace
Crude oil
Caribbean
Qingdao
3-Apr
21-May
Loaded with U.S. crude at St. Croix and may have picked up Venezuelan oil via ship-to-ship transfer at Aruba
Maxim
Crude oil
Caribbean
China
3-May
27-Jun
Ship loaded 500k bbls of U.S. crude via ship-to-ship transfer and may head to China (Kpler)
Richmond Voyager
Crude oil
U.S. Gulf
N/A
15-May
7-Jul
Ship expected to load U.S. crude and head to China (Kpler)
Scf Shanghai
Crude oil
N/A
N/A
26-May
26-Jul
Ship expected to load U.S. crude and head to China (Kpler)
Coswisdom Lake
Crude oil
N/A
N/A
26-May
26-Jul
Ship expected to load U.S. crude and head to China (Kpler)
Svet
Crude oil
N/A
N/A
8-Jun
5-Aug
Ship expected to load U.S. crude and head to China (Kpler)
C. Innovator
Crude oil
N/A
N/A
7-Jun
7-Aug
Ship expected to load U.S. crude and head to China (Kpler)
Cosdignity Lake
Crude oil
N/A
N/A
12-Jun
18-Aug
Ship expected to load U.S. crude and head to China (Kpler)
Karan
Crude oil
N/A
N/A
13-May
N/A
Chartered by BP and expected to load U.S. crude for China or S.E. Asia
Front Page
Crude oil
N/A
N/A
10-May
N/A
Chartered by Phillips 66 and expected to load U.S. crude for China or S.E. Asia
Iberica Knutsen
LNG
Sabine Pass
China or Taiwan
14-May
Genscape says destination is Taizhou, China while IHS and Kpler say it's Taiwan
Jia Foison
Corn
Louisiana
N/A
20-Apr
13-Jun
Loaded by LDC
Nautical Jennifer
Sorghum
Texas
N/A
24-Apr
7-Jun
ADM shipment
Mynika
Soybeans
Louisiana
Lianyungang
1-Apr
16-May
Loaded by Cargill
Navios Dolphin
Soybeans
Louisiana
China
21-Apr
11-Jun
Loaded by ADM
Cape Kasos
Soybeans
Louisiana
N/A
22-Apr
12-Jun
Loaded by LDC
Eirini P
Soybeans
Louisiana
N/A
4-May
13-Jun
Loaded by CHS
Blue Bosporus
Soybeans
Louisiana
China
24-Apr
16-Jun
Loaded by CHS
Xing Chang Hai
Soybeans
Louisiana
N/A
3-May
21-Jun
Loaded by Cargill
SBI Bolero
Soybeans
Louisiana
N/A
2-May
22-Jun
Loaded by ADM
Lyric Poet
Soybeans
Louisiana
N/A
4-May
22-Jun
Loaded by ADM
Golden Empress
Soybeans
Louisiana
Qingdao
12-May
28-Jun
Loaded by ADM
Sinochart Beijing
Soybeans
Louisiana
N/A
14-Apr
N/A
Loaded by Zen-Noh