Trade War Barely Slows Investment Plans, Philly Fed Survey Shows
(Bloomberg) -- Manufacturers in the northeast U.S. are largely shrugging off global trade disputes and plan to boost investments next year thanks to tax cuts, according to a Federal Reserve survey.
More than 64 percent of business respondents in the Philadelphia Fed district said tariff and trade policies wouldn't impact their investment plans next year. About 19 percent said the duties would cause them to modestly or significantly decrease capital expenditures in 2019, according to the bank's October manufacturing business outlook survey published Thursday.
Meanwhile, almost 40 percent of respondents said they will boost investments because of tax relief, which included reduced rates for corporations.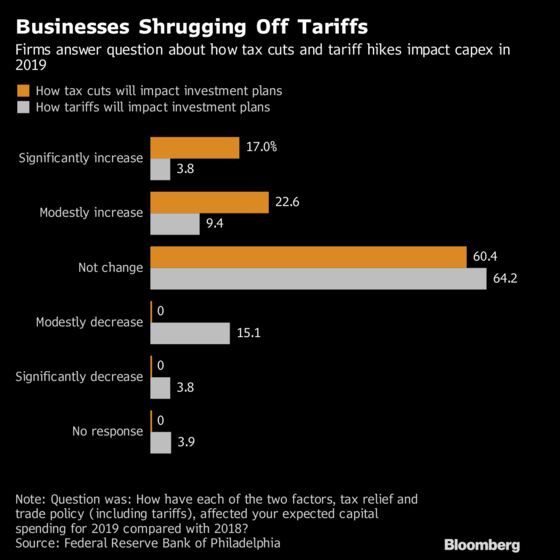 The findings contradict speculation from many economists and even President Donald Trump's former economic adviser Gary Cohn, who said uncertainty from trade tensions could cancel out the benefits of tax cuts. Amherst Pierpont Securities' chief economist Stephen Stanley said in a note he was "surprised at the ambivalence toward trade policy."
"I would have expected uncertainty around trade policy to have an impact close to the mirror image of the tax relief question," Stanley wrote. "The drag from an uncertain trade policy may be weaker than generally thought."
In total, almost 41 percent of businesses in the survey plan to boost capital expenditures next year while about 46 expect no change. The central bank's Philadelphia district covers businesses in eastern and central Pennsylvania, southern New Jersey and Delaware.