Trade 'Snap-Back' Risk Keeps China Economic Confidence in Check
It's the details of the phase one trade deal with the U.S. that are set to bedevil the Chinese economy this year.
The 96-page document signed last week in Washington contains about 100 specific provisions on intellectual-property protection and other commitments with delivery dates. They're in addition to the better-known target for extra goods imports worth $200 billion over two years.
With some implementation targets due in the first quarter, any slippage could quickly revive trade tensions and dispel the confidence boost from its signing. Output in the three months to December stabilized and while there are some signs of a pickup in investment, few economists expect a sturdy rebound.
"The outlook isn't optimistic and China and the U.S. remain in a long-term face-off," said Ding Shuang, chief China and North Asia economist at Standard Chartered Bank Ltd. in Hong Kong. He expects the Sino-U.S. trade frictions to knock 0.2 percentage point off China's gross domestic product growth in 2020.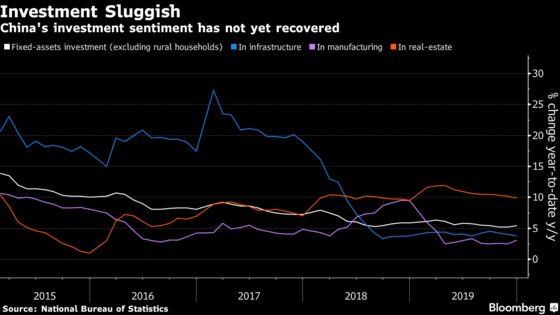 The agreement negotiated between the two sides contains around 100 instances of the phrases "China shall" or "China will," pinning Beijing to actions ranging from the provision of more data on trade-secret infringements to increasing the number of customs officers searching for counterfeit goods.
Some of the clauses require action to be taken within three months, and China must provide an "Action Plan" in the first quarter on its approach to intellectual property protection.
Morgan Stanley economists including Robin Xing see bilateral trade relations after the phase-one deal as being still frozen in a state of "uncertain progress." Most of the tariff burden on Chinese goods remains, and "noise could rise again" in the second half as both countries start to hold quarterly review meetings, they wrote.
Much will also depend on the stance taken by U.S. President Donald Trump during an election year.
Overall, economists see the Chinese economy expanding by 5.9% this year. That consensus was upgraded in December after the accord between the two sides was reached.
Signs that the trade truce is going off track would likely be followed by threats of higher tariffs. For Chinese businesses, that scenario is only marginally better than the escalation seen last year.
Investment by private-sector companies -- the backbone of the economy -- slowed through most of 2019 amid the tariff uncertainty and persistent credit tightness. Those constraints are likely to ease only slowly.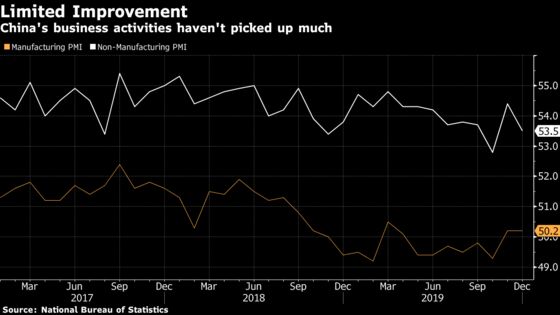 Citigroup Inc economists pointed out that China-U.S. tensions go beyond trade, and may even accelerate after the U.S. election.
"The enforcement mechanism allowing unilateral actions essentially implies the risk of a snapback of U.S. tariffs or China's commitments," they wrote in a note on Thursday. "It is not impossible for this deal to face some domestic push-back in China," as it appears to be more in favor of the U.S., they said.
What Bloomberg's Economists Say...

"The signing of the 'phase-one' trade deal takes China out of the most turbulent waters, but it will hardly be smooth sailing ahead -- sizable U.S. tariffs will continue to weigh on the external sector, and sentiment is weak."

Chang Shu and David Qu

For the full note click here
Economists have therefore mostly kept their forecasts intact following the agreement. Wang Tao at UBS AG maintained her GDP growth forecast at 6% after upgrading it from 5.7% in December, as the U.S. halted the planned tariff hike. Citigroup also said the deal won't affect their growth outlook much and maintained their forecast at 5.8% for this year.
Julia Wang, senior economist at HSBC Bank Plc, said one should not be "overly pessimistic" about the prospects.
"Both stand to gain from further discussions," she wrote in a note on Thursday. "Policy-makers are determined to continue reforming and opening up the economy."