Trade Deficit in U.S. Widens to a Record as Exports Decline
The U.S. trade deficit widened to a record in September, reflecting a pickup in imports and a drop in exports that show a pandemic recovery further along than many other economies around the world.
The gap in trade of goods and services grew 11.2% to $80.9 billion, from a revised $72.8 billion in August, according to Commerce Department data released Thursday. The median estimate in a Bloomberg survey of economists was for a shortfall of $80.2 billion.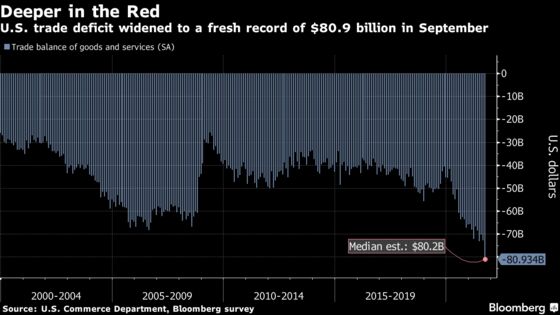 The value of goods and services imports rose 0.6% to $288.5 billion in September. The U.S. imported $700 million more consumer goods during the month and $2.5 billion more of capital equipment. Exports declined 3% to $207.6 billion, due to fewer outbound shipments of gold and crude oil.
The wider gap capped a quarter in which trade continued to weigh on gross domestic product. Net exports subtracted 1.14 percentage points from economic growth in the third quarter.
While a surge in household demand for merchandise earlier this year and steady business demand for equipment have left inventories extremely lean, the reopening of the economy is gradually boosting demand for services.
At the same time, domestic producers have struggled to ramp up output because logistics bottlenecks have knocked global supply chains out of sync, resulting in backups at ports, a wide range of materials shortages, and soaring shipping rates. President Joe Biden and his administration have been working for months to smooth out bottlenecks, but his power to influence what is almost entirely a private-sector problem is limited.
The merchandise-trade deficit widened to a record $98.2 billion from $89.2 billion
The nation's surplus in services trade increased to $17.2 billion from the smallest since 2011. It was the first advance in four months
Travel imports, a measure of Americans traveling abroad, advanced for a seventh month, to $6 billion
U.S. merchandise exports fell to $142.7 billion, the first decrease since February
The value of motor vehicles and parts imports fell $2.2 billion
On an inflation-adjusted basis, the September merchandise-trade deficit widened to about $111 billion