Top Economist to Back Average Inflation Target at Fed Confab
(Bloomberg) -- An influential economist and former monetary policy maker endorses an average inflation target in a paper to be presented at the Federal Reserve's two-day research conference that starts on Tuesday.
Lars Svensson, a Stockholm School of Economics professor and former Swedish central banker, said such an approach would help mitigate some of the problems the Fed faces in a low interest rate, low inflation world.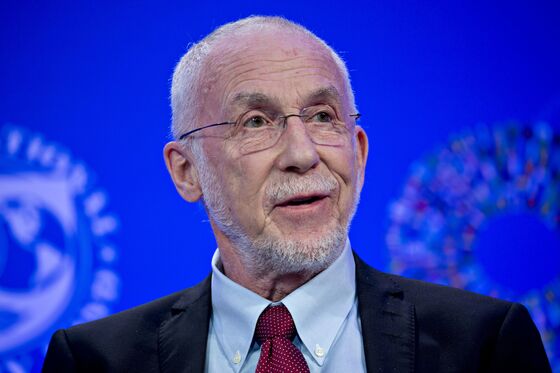 "Average inflation targeting has some advantages,'' he wrote in a paper to be discussed on Wednesday at the Federal Reserve Bank of Chicago. Under such a target, the central bank would aim to hit its price goal on average over a period of time.
Such a shift in strategy would have major implications for the economy and financial markets. Under an average inflation target, the Fed could end up keeping interest rates lower for longer to make up for past periods in which price increases fell short of its 2% goal.
This week's conference is billed as the main event in a wide-ranging review by the Fed of its policies and practices that is slated to reach a conclusion in the first half of next year.
Chairman Jerome Powell will kick off the meeting on Tuesday with opening remarks, while Vice Chairman Richard Clarida speaks to the gathering of mostly academics on Wednesday.
At the top of the agenda: how to conduct monetary policy at a time of low interest rates and low inflation. That's a world where the central bank has limited firepower to fight a recession, and where the risk of a deflationary decline in the economy is heightened as a result.
While Powell has ruled out increasing the central bank's 2% inflation objective as part of the review, he's raised the possibility that it could adopt a "make-up'' strategy -- letting price increases run above target during good times like now, to offset the periods of slower price rises. Under its current approach, the Fed treats inflation misses as "bygones'' and does not commit to make them up over time.
Since introducing its 2% target in 2012, the central bank has failed to lift inflation to that level on a sustained basis.
In his paper, Svensson said a five-year average inflation target would help shape the public's expectations about future price rises if it was seen as credible. That would make it easier for the Fed to hit its price goal and give it more room to cut inflation-adjusted interest rates in the event of a recession.
Such a strategy also would be simpler to communicate and represent less of a break with the current approach than price level targeting, he said.
It could though serve as a bridge to that stratagem, under which the Fed would firmly commit to hitting a price level that rises 2% a year, according to Svennson, a former colleague of ex Fed Chairman Ben Bernanke when the two taught at Princeton University.
The first panel on Tuesday will feature a paper simulating how various alternative strategies, like temporary price-level targeting and pegging long-term interest rates, would have led to different outcomes had Fed officials pursued them after the crisis.
Its authors -- Janice Eberly of Northwestern University, Harvard's James Stock, and Jonathan Wright at Johns Hopkins -- found that some strategies could have led to a faster reduction in unemployment, but wouldn't have been able to boost inflation much, due to the weakened link between labor-market tightness and price pressures.