Top Chinese Economists Spar Over How Slow the Economy Should Go
Chinese economists with influence in government circles are beginning to set out their positions over how much the nation should support growth next year, ahead of a key economic planning meeting.
China's gross domestic product expanded 6% in the third quarter, the slowest rate in decades and the expansion is forecast to fall below that level next year. Supporting the economy will likely be top of the agenda at this month's Central Economic Work Committee, which will decide 2020's targets, including how much the government should spend and what growth rate should be aimed at.
The economists' debate has taken place in articles or speeches at a series of conferences held in Beijing over the past week, with positions diverging over how to balance growth and the desire to reduce financial risks. This year, the government has prioritized the latter, and has held off on large scale stimulus with little sign of a change of course.
Former central bank adviser Yu Yongding argued that growth can't be allowed to drop below 6%, proposing more stimulus to stop the downward trend in the economy.
"The most pressing and prominent problem is to prevent the economy from slowing further," Yu wrote in an article published in Caijing Magazine on Sunday. "The more important matter is that there are no signs that the economy is bottoming out."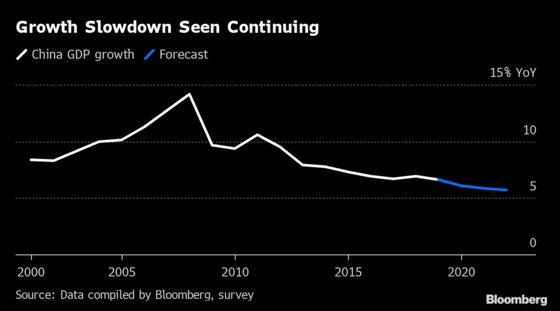 Growth needs to be stabilized, Yu wrote, even at the expense of a temporary deterioration in fiscal conditions. The consequences of a slowing economy include insufficient jobs, inability to hedge against risks from a protracted trade war with the U.S., and little room for structural reforms.
Some of Yu's view were echoed by Song Yu, Chief China economist at Beijing Gao Hua Securities Co, Goldman Sachs Group's local partner. He voiced concern that if no effective measures were taken, China's economy might continue plunging indefinitely.
"How's it possible that growth is a bad thing?" he asked rhetorically at the China Finance Annual Forum last Friday.
"Some people have started saying that a high economic growth rate is bad. That lower is better. A 6% growth rate is better than the old 8%. What about in two years? Are we going to say 4% is better than 6%?"
On the opposite side are economists who are comfortable seeing China's economy gradually slowing to below 6%.
Xia Bin, an economic adviser to the State Council, said a target range of 5.5% to 6% for 2020 is the result of an "extremely reliable" analysis of the current situation.
This target range can not only ensure China reaches the goal of doubling per capita GDP and household income from the level in 2010, but also serve the purpose of stabilizing employment, Xia said at a forum co-hosted by Renmin University on Saturday. A conservative growth target would be around 5.8%, he said.
Besides the goal of doubling GDP by 2020, next year is an important year for China's economic planning - it's the last year of the current "five-year plan" and also the final year of the 'three critical battles' against debt, poverty and pollution.
The government has to manage the inevitable slowdown as the nation moves to being a middle-income country, try to counteract the effects of the trade war, balance risks from debt and stimulus, plus achieve those fixed goals.
Huang Qifan, a vice president at China Center for International Economic Exchanges, also opposed loose monetary policy, arguing that it's only effective in combating cyclical problems, not structural ones.
"Competitive zero interest rates, quantitative easing and excessively loose monetary policy are harmful in the long run. We will never replicate that path," Huang said at the China New Financial Summit Forum on Sunday.
That's similar to what People's Bank of China governor Yi Gang wrote over the weekend when he argued that China should stick to a conventional approach as long as possible.
"The world's economic downturn will likely stay for a long time," Yi wrote in an article in a Communist Party magazine. "We should stay focused and targeted, while not competitively lowering interest rates to zero or engaging in quantitative easing."