To Make Mexico Grow Again, Lopez Obrador Needs to Find Some Cash
(Bloomberg) -- Addressing the adoring crowds gathered in Mexico City to celebrate his landslide election win, Andres Manuel Lopez Obrador set out an economic wish-list, and some red lines.
What the president-in-waiting said he'd do: Boost public investment, increase grants for students, and generally do a better job of looking after "the poor and the forgotten.'' Some things he definitely won't do: Raise taxes, rack up debts, mess with central-bank independence.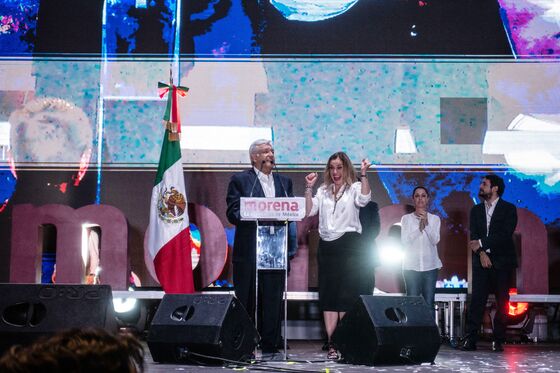 Mauro Leos, a senior analyst at Moody's Investors Service, looked at the two lists and scratched his head. "The message is confusing, difficult to understand,'' he said. "There's the fiscal question. Where will the spending come from?''
That's one of the biggest challenges for the leftist leader who just smashed the mold of Mexican politics. AMLO, as he's known, won a decisive mandate to refashion an economy that's delivered sub-par growth for decades and failed to channel even those meager gains to the country's poor.
"We need to push development in this country," Lopez Obrador told TV Azteca last night. "The world is growing at 4 percent, we're growing at 2 percent, and it's been like that for 30 years."
The incoming administration won't take office until December, and may have limited control over some key areas of economic management. Trade, for example: In the talks on rebooting Nafta, Mexico is the junior partner and subject to U.S. President Donald Trump's whims. On monetary policy, Mexico's central bank tolerates no government interference.
On a conference call with investors Monday, Lopez Obrador's economic team made it clear that the change of course will start with the 2019 budget.
There's plenty of data to back up AMLO's argument that Mexico needs more public spending and investment.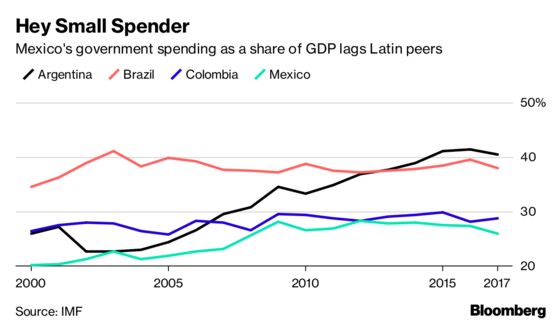 The problem lies in his proposed means of financing it. Lopez Obrador says the money can be found simply by stopping corruption and making government contracting more efficient. To many analysts, that's more like a magic bullet than an economic plan.
Financial markets find the gap disturbing too. The reassuring tone of Lopez Obrador's victory speeches was broadly welcomed, and the peso rebounded Tuesday on reports of a constructive phone call between AMLO and Trump. Still, there's concern that Mexico could go the route of Argentina and Brazil, which ran up huge deficits and drove their economies into the ground.
When they compare Mexico's budget policies with those found further south, investors see a "big differentiating sign," said Ernesto Revilla, head of Latin American economics at Citigroup Inc., who worked at the Finance Ministry under the outgoing President Enrique Pena Nieto. "That's important to keep."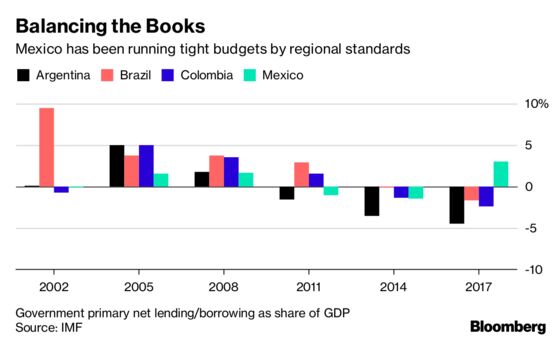 Mexico's central bank also has a reputation for conservatism. Forget autonomous: It's practically a separate state -- and like most emerging-market peers, its mandate is limited to inflation. It's been steadily raising interest rates since late 2015. As he looks to stimulate the economy, Lopez Obrador can't expect much help in that direction.
All this prudence has delivered stellar credit ratings -- but not much growth. Mexico's economy has expanded at less than half the average pace of developing nations in the past quarter-century. Its poverty rate has stuck close to 50 percent, according to World Bank data. And that's one reason why Lopez Obrador, running on a platform of pumping up the domestic economy and redistributing wealth, wiped out his technocratic opponents Sunday.
Mexico "is in a very good position" in the short term, Carlos Urzua, who's AMLO's pick for finance minister, said on Monday's conference call. "In the medium term, in the long term, we have to change course."
Government investment has fallen off a cliff in recent years.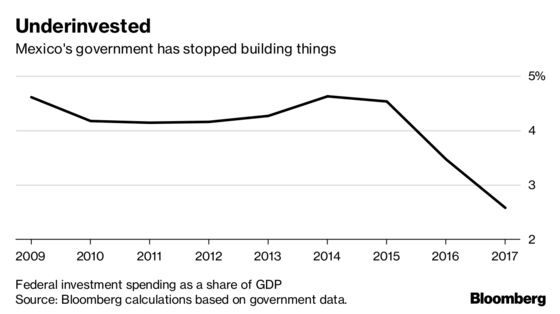 Urzua said the goal is to push public investment back up to 5 percent of GDP. His aides outlined plans for new infrastructure spending, and higher allowances for the elderly and for unemployed youth, that would together cost about 1.7 percent of GDP. And they said that by centralizing a corrupt system of procurement, savings of as much as 2 percent of GDP can be found.
There are ways to collect more money while keeping AMLO's promise not to raise taxes, according to Jesus Cantu, an economic analyst at the Tecnologico de Monterrey university who worked with the Lopez Obrador campaign, though he's not part of the transition team.
Cantu points out that Mexico's tax rates are roughly in line with OECD norms -- but revenue is among the lowest in the group. "It doesn't take an economic specialist to understand that there's major tax evasion," he said.
If catching the scofflaws was easy, it likely would've been done already. The arm of the state doesn't always reach very far in Mexico, a country of 125 million that's suffering from an epidemic of violent crime after a decade-long war against drug cartels. The homicide rate regularly exceeds 2,000 people a month and reached a record of more than 2,500 in May.
Security was a top concern for voters, and if Lopez Obrador can make them feel at least a bit safer, Mexicans may forgive his government for not delivering immediate economic gains.
But eventually his team will probably realize that their proposals will generate "far less revenue" than they're currently estimating, said Leos, the Moody's analyst. "How do you fill that hole?"