Time to Buy Chinese Shares on Central Bank Shift: Matthews Asia
(Bloomberg) -- Chinese shares should benefit as the country's central bank deploys measures to support growth, and the market's recent sell-off has left plenty of appealing targets on offer, according to regional investment specialist Matthews Asia.
The impact of past China monetary tightening -- not the country's trade skirmish with the U.S. -- has been behind weak returns for the equity market this year, said Robert Horrocks, chief investment officer of the San Francisco-based company, which manages $33.8 billion.
That analysis suggests that even with continued trade tensions, Chinese equities could shine. Matthews is betting on it, buying more A-shares throughout the year, according to Horrocks. He said the firm will continue to add Chinese equities to its portfolios through cutting holdings of more expensive markets in Asia, such as India.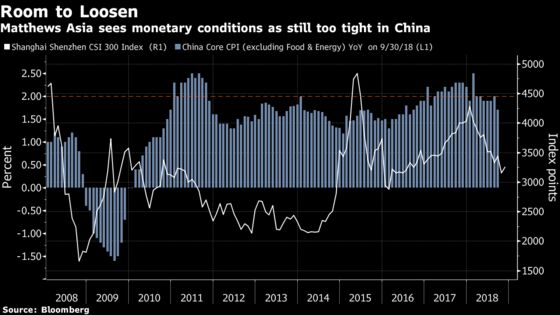 "Now the central bank is going to start to loosen policy," Horrocks said at a press conference in Hong Kong on Monday. "We've got months of working through this tighter monetary policy environment before we see the effects of any policies."
A clear signal favoring easier policy came from China's core consumer-price inflation, which excludes food and energy prices. When the gauge is rising less than 2 percent year-on-year, that suggests conditions are tightening, according to Horrocks. September's reading was 1.7 percent.
The Shanghai Composite Index tumbled into a bear market this year, down 25 percent from its January peak. That's left a market ripe with bargains, such as those in the internet sector, Horrocks said.
"Look to any of those high-flying fast growth companies that used to be trading on 30-, 40- or 50-times earnings, you can now get them at 20," he said. "That's a much better deal, and that's what we're looking at."
Still, Horrocks expects a few more months of volatility and possibly weaker markets in early 2019. Tighter monetary policy in the U.S. should remain a drag on the S&P 500 Index, which could weigh on Asian equities as well, he said.
Outside of China, Asian high-yield credit also looks attractive, he said. "Asia remains the only part of global high yield market where you're getting reasonable spreads right now."