One Money Manager Thinks Investors Are Too Pessimistic on China and Brazil
(Bloomberg) -- Emerging-market traders fretting about Brazil's presidential elections or the escalating trade tensions between the U.S. and China need only look to Mexico to know things will probably turn out alright, according to Charlie Wilson of Thornburg Investment Management.
While Mexican markets were roiled this year amid concern Donald Trump would cancel Nafta and the country's next government would ruin the economy, they've staged a recovery in the second half as investors made peace with the president-elect and officials hammered out a new trade pact with the U.S. The peso is the world's best performing currency since June 30 and the benchmark stock index is up more than 5 percent in dollar terms.
Wilson, a money manager at Thornburg who oversees about $1 billion of assets, says Mexico's experience holds lessons for investors elsewhere in emerging markets. He says Chinese and Brazilian assets have been overly punished on concern the trade war will sap growth and Brazil's next president will blow out the budget deficit.
"The sentiment on China and the impact of a trade war is just way too negative," he said. In Brazil, "regardless of who is elected, we'll move back to the center, get some level of reform accomplished, and that's positive."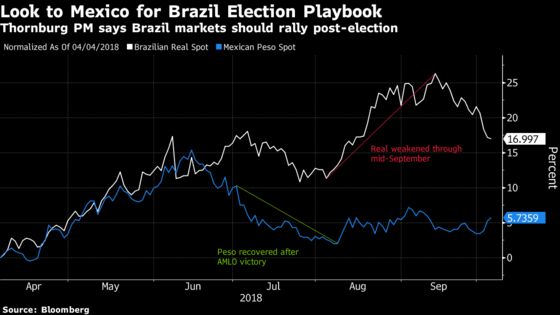 Wilson said stock valuations in Brazil are "extremely attractive" at the moment and that he's buying shares of Itau Unibanco Holding SA, "one of the best-run banks in all of EM." He also favors airline operator Azul SA and stock-exchange operator B3 SA.
He expects Chinese and U.S. officials will eventually come to a trade truce that won't fundamentally change the U.S.-Chinese trading relationship.
"There's some real bargains on amazing companies" in China, said Wilson, who added that he's buying shares of Ctrip.com International Ltd., Alibaba Group Holding Ltd. and Galaxy Entertainment Group Ltd. "The pessimism overwhelms and the valuations become disconnected from the fundamentals."