This Other 'Blue Wave' May Have Timed the Bottom: Taking Stock
(Bloomberg) -- The S&P 500 has bounced close to 7 percent in the past week and a half, recoiling from the horror that set in for almost the entirety of October.
It's wild to sit back and think just how dire everything looked two to three weeks ago, from growth quickly falling out of favor to tech showing zero bid after a smattering of megacap earnings missteps, to the Shanghai Composite and emerging market equities plumbing yearly lows, to the threats of an even more decimating round of tariffs on China.
Compare that to the situation we find ourselves in right now, where tech and its ilk aren't out of the woods but in a heck of a better spot than what the trading in October suggested. Add in the about-face from Trump in regard to a possible trade deal with China to the midterms that avoided any disaster scenarios to optimism from some that the Fed may tread more cautiously on rates going forward.
Meanwhile, the S&P 500 held its long-term support at ~2,600 and forcefully rushed back above several other key resistance levels from the whole number at 2,700, the 200-day moving average 2,764, the whole number at 2,800, and even coming within points of the 100-day moving average of 2,820 on Wednesday.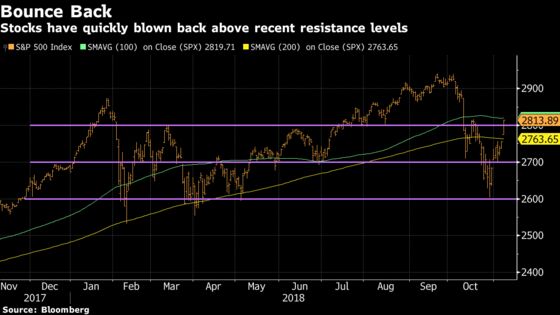 Good luck getting a great reason to explain why futures are down ~10 handles this morning, as I bet the common response is something along the lines of "Well, we've been up so much lately. What do you expect?" Global markets aren't much of an indicator this morning, with Europe's Stoxx 600 up 0.3% while the Shanghai Composite pulled back ever so slightly.
But today is a Fed day, and the highs of ~3.26% on the 10-year yield from one month ago remain an area of potential spookiness -- but I'd imagine most expect a relatively drab meeting today with fed fund futures pricing in no change to rates until the December meeting.
Bottom Fishing
It's still not entirely clear who or what the culprit was for the rout last month (there are too many theories to even get into here), but what we do know is that it led to some of the worst returns for hedge funds since 2011 by some measures -- Whale Rock's flagship fund plunged 11%, Light Street's master fund slid >9%, and so on.
We also know that a lot of funds didn't panic sell out of their tech and consumer holdings, deciding instead to double down on their positions or allocate more heavily into those respective sectors in the last five days of October.
Those that had the onions to bottom fish are being rewarded handsomely at the moment, as the crowded FAANG complex, the semis, and consumer discretionary stocks are among the best performers throughout this latest bounce -- for example, Amazon, Netflix, Alibaba, Nvidia, AMD, Micron, Under Armour, and Starbucks are all up anywhere from 14% to 30% in this time span. The graphic below shows single-stock performance in the NYFANG+ index over the past seven sessions.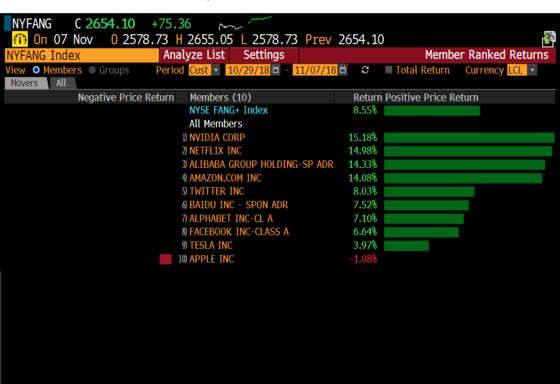 Speaking of "Blue Wave"
Call it luck, or call it a shrewd investing move.
Check out the exact timing when IBM AKA "Big Blue" said it would buy software company and momentum interest piece Red Hat for $33.4 billion, which came after the latter slid well over 30% from its summer peak.
The announcement came ahead of the Oct. 29 trading session, or the exact day that the near-term bottom was put in -- read more about what the significance of the tie-up in that morning's Taking Stock, titled "A $33 Billion Opportunity Just Presented Itself."
Never mind the fact that this deal was clearly in the works for a long time, because the premium could have ended up being way higher in better market conditions. But IBM pulled the trigger on a falling knife and appears to have made out for the time being.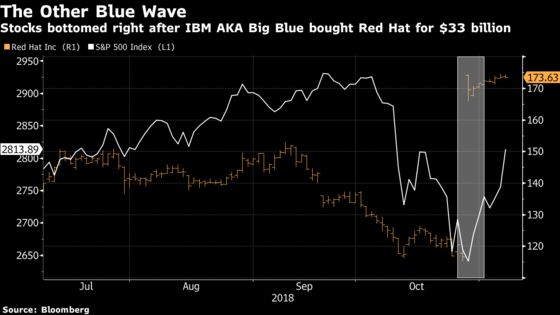 Semis may be weak after $93 billion market cap Qualcomm (down ~6%) and smaller peer Microchip (-2%) guided sales below Street estimates, though the semicap equipment names like KLA-Tencor and Lam Research may fare a bit better after Europe's ASML boosted its 2020 revenue outlook
TV streamers after disappointments from Roku (-12%) and TiVo (-9%)
Auto dealers following massive earnings-related upside moves from online names Carvana (+21%) and CarGurus (+15%)
Online travel companies with TripAdvisor (+7%) surging on quarterly EPS that topped the highest estimate on the Street, which follows a strong forecast from Booking Holdings on Tuesday
Casinos may be weak after the CEO for Wynn (-13%) cited slowing gambling action in Macau and a miss for domestic name Red Rock Resorts (-4.5%)
Pot stocks ripped Wednesday (Tilray +31%, for example) after Sessions, a major opponent of cannabis legislation, announced his resignation; watch for follow through in Tilray and names like Cronos and Canopy Growth (see chart below)
Natgas E&Ps ahead of today's storage data, which comes amid a spike in the commodity at the beginning of the week
Industrials ahead of presentations from Caterpillar, United Tech, and rail majors from CSX to Union Pacific
Sectors that may move with earnings over the next ~24 hours include semis (Skyworks and Synaptics), media (Disney and Lions Gate), cloud (Dropbox and Hortonworks), Internet (Yelp), video games (Activision), digital ads (Trade Desk), money transfer (MoneyGram), rental cars (Hertz), auto parts (Adient), toys (Funko), and dental (Dentsply)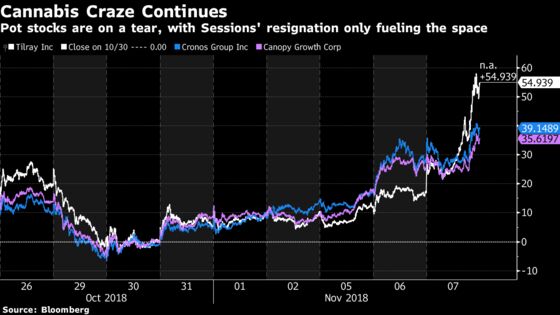 Notes From the Sell Side
Morgan Stanley's Katy Huberty lifts her Apple price target from $226 to $253, or almost twenty bucks above the average on the Street, following a survey of U.S. and China smartphone users showed increased confidence in sustained 20%+ annual Services growth and margin expansion.
Separately, Morgan Stanley is trimming estimates on overweight-rated Nvidia (the top performer in the NYFANG index over the past 7 days, as the above graphic showed) owing to "some bumps in the road" in gaming tied to the end of the crypto-related shortage.
Gordon Haskett's Chuck Grom recommends modestly reducing long exposure to retail after a proprietary consumer survey in addition to data points and broker color in the housing world suggest "the likelihood of some cooling/transitional period (as rates normalized) as we turn the corner into 2019." He downgrades Lowe's, RH, and Nordstrom as a result.
And BofAML upgrades Spirit AeroSystems to a buy on better-than-expected 737 performance: "With better execution, we expect the next 737 production ramp increase to 57 per month in 2019 to be smoother than what we have seen in 2018."
Tick-by-Tick Guide to Today's Actionable Events
7:00am -- DISCA, WP, CROX, PLUG (roughly) earnings
8:00am -- DWDP investor meeting (day two of two)
8:01am -- IEP earnings
8:30am -- Initial Jobless Claims
8:30am -- DHI, DISCA earnings call
9:30am -- DXC investor day
9:45am -- Bloomberg Consumer Comfort
10:00am -- ERIC capital markets day
10:00am -- IEP earnings call
10:30am -- EIA natgas storage
10:30am -- UNP at Baird industrial conference
11:00am -- ULTA analyst day
11:00am -- UTX at Baird industrial conference
11:30am -- CSX at Baird industrial conference
2:00pm -- FOMC rate decision
3:00pm -- CAT at Baird industrial conference
4:00pm -- HTZ (roughly) earnings
4:01pm -- TTD earnings
4:05pm -- DIS, LGF/A, YELP, DBX (roughly), HDP (roughly), TRUP, FNKO (roughly), BOJA earnings
4:15pm -- AMC (roughly), ATVI (roughly), SWKS, SYNA, VRTU, CTL earnings
4:20pm -- DIS CEO Bob Iger on Bloomberg TV
4:30pm -- DIS, ATVI earnings call
5:00pm -- XRAY earnings (roughly)
5:00pm -- AMC, YELP, DBX, SWKS, SYNA earnings call
8:20pm -- Panthers at Steelers (-3.5)
8:30pm -- China CPI and PPI