This Is What a Bull Run Looks Like in China's Stock Market
(Bloomberg) -- A big day's worth of turnover before the morning's even out. Every stock with the word "securities" in its name rising by the daily 10 percent limit. And 260 shares up for every one that's down.
Welcome to a bull market in Chinese equities, where hot-or-cold sentiment is currently approaching a rapid boil. More than $1 trillion has been added to stock values in less than two months, rewarding investors who kept the faith after the worst year for shares in a decade.
The CSI 300 Index got in on the act on Monday, ending the day up more than 20 percent from its Jan. 3 low, its fastest entrance into a bull market in six years. The ChiNext index, a group of mostly smaller technology shares that have been serial laggards, marked its own bull market milestone at the end of last week.
Optimism about a trade truce is helping, but the extreme outperformance of mainland stocks relative to every other global equity gauge -- including the S&P 500 Index -- speaks to something more specific. A cocktail of regulatory changes, powerful people endorsing a focus on growth and hype about an upcoming new board for technology stocks is adding up to a validation of the market that's been absent since the 2015 bubble.
"It's clearly a liquidity-driven rally," said Shen Zhengyang, a Shanghai-based strategist with Northeast Securities Co. "With so many funds flooding the market all of a sudden, it feels like 2014-2015 again," he said. Unless regulators step in to put the brakes on, "it's going to be an upward spiral."
Further reading:
Xi Hints China's Bias Shifts to Growth Over Controlling Risk
These charts illustrate the strength of the rally:
Investors are getting increasingly active, with shares worth more than 1 trillion yuan ($149 billion) changing hands on the country's exchanges on Monday. That is the highest since November 2015, and nearly three times the average daily turnover in the past year, according to Bloomberg calculations.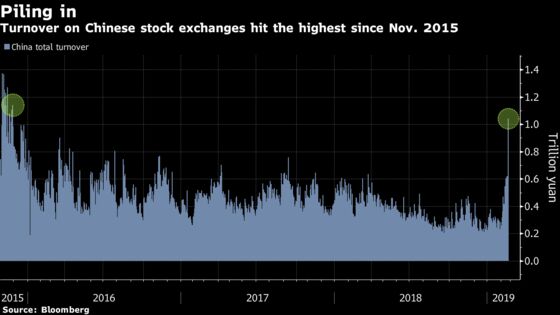 The world-beating gains in A shares have sent the price gap over their Hong Kong-listed peers to above 20 percent, the widest since Oct. 31. The premium expanded by the most in three years on Monday.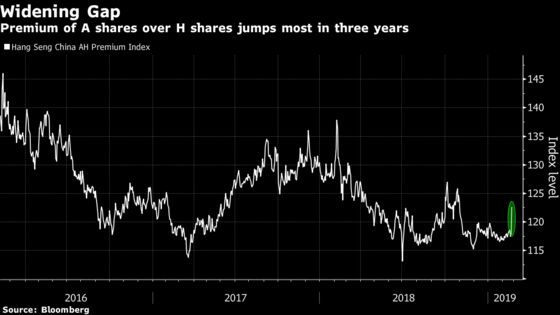 Investors added leverage in all but one trading session this month through last week. Outstanding margin debt reached 757 billion yuan on Friday, the highest this year, after falling to the lowest since 2014 on Feb. 1.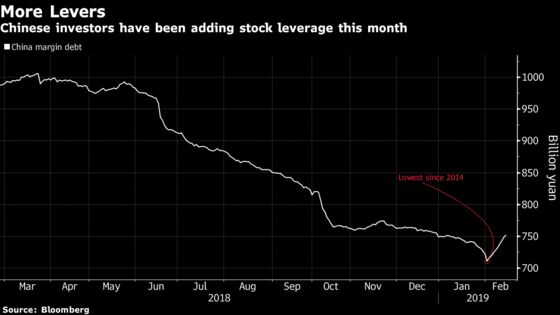 Brokerages are another area to look for a pulse check on stocks, and they are on a tear. A Bloomberg gauge for mainland-listed brokerages is trading at its highest level relative to the Shanghai Composite benchmark since September 2017. Every stock with the word "securities" in its name rose by the daily limit on Monday.