These Charts Show China's Uphill Battle With Bond Defaults
(Bloomberg) -- China's bid to ease funding strains faced by private sector firms is proving to be tough going and signs are that things may get gloomier.
Local company bond failures are at their highest levels this year and show no indications of abating. Junk bond sales have slumped to 2014 lows and spreads between lower and top rated borrowers are hovering near the widest in more than two years. What makes all this worse is the slowing economy, according to Nanjing Securities Co.
Here are three charts showing China's challenges in curbing financing stress among the lower-rated companies.
November was an ugly month for local corporate bond defaults, which spiked to 20.4 billion yuan ($3 billion). That likely means that the supportive policies from the People's Bank of China announced more than a month ago have yet to yield the intended effect.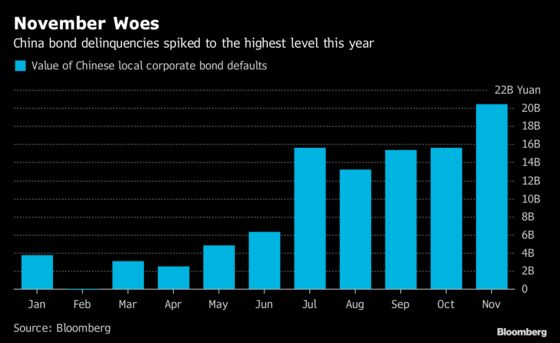 "Defaults will stay elevated next year because the Chinese economy is expected to slow and off-balance-sheet lending has been shrinking," said Yang Hao, analyst at Nanjing Securities. The funding environment has yet to improve significantly for certain corporations, he added.
While new bond issuance from the private sector recovered last month, investors shunned lower-rated notes, and only relatively stronger firms were able to access the local bond market. Non-finance companies rated below AA publicly sold 1.27 trillion yuan of notes for the first 11 months this year, the lowest in four years, Bloomberg-compiled data show. In contrast, companies with above AA+ ratings sold almost 3.28 trillion yuan bonds, up about 40 percent from last year.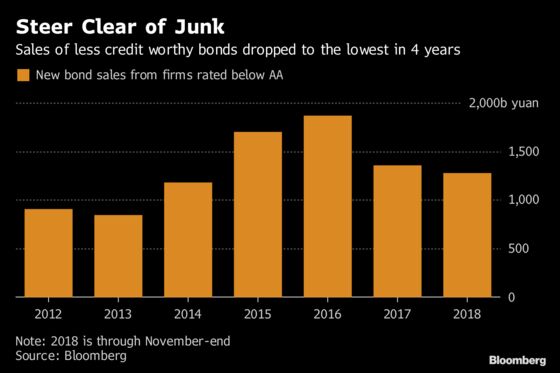 Meanwhile, investors still have poor risk appetite amid China's ongoing efforts to cut leverage in the economy, which has produced a starkly divergent performance in the corporate bond market.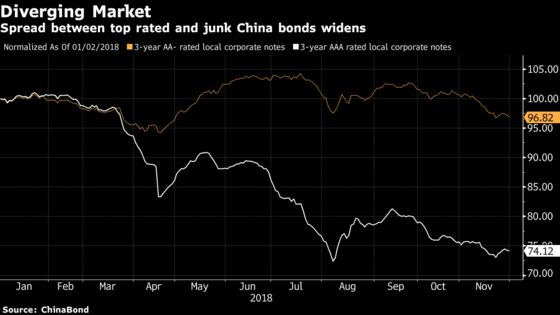 Though regulators have rolled out a slew of supportive measures, defaults will continue to be "normal" in 2019 if companies fail to address inappropriate debt structures and high levels of share pledging, according to a report by Industrial Securities Co. on Sunday.
Investors still prefer champion companies in the private sector, and more lower rated notes will be exposed to credit risks next year due to the huge maturity pressure, said Liu Yu, chief bond analyst at Guosheng Securities Co. in a phone interview.