There's More to Be Not-So-Thankful For: World Economy This Week
(Bloomberg) -- Markets were in meltdown mode this week, stressed by softer corporate earnings, ongoing U.S.-China tensions, and the still-strong prospects of a Federal Reserve interest-rate hike just in time for Christmas.
The Fed's job is sure to get a whole lot more complicated even after this next decision, and the global economic picture isn't helping: If you freaked out about Japan and Germany and the broader euro area slowing in the third quarter, you might want to mind a few more GDP losses this week in Israel, Chile, and Thailand.
Here's our weekly wrap of what's going on in the world economy.
There are a slew of fresh question marks around the Fed's December plans, with pricing of interest-rate probabilities sliding amid signals that the U.S. economy is shifting into lower gear. Add to that: the New York Fed chief's remark that they'll probably raise rates "somewhat," and more skepticism of a happy ending for U.S.-China talks (more on that later). It'll only get tougher from there.
There was also a loud peanut gallery this week to rattle central bankers. U.S. President Donald Trump took his Fed criticisms further, promoting a cut in interest rates. The Reserve Bank of India engaged government officials who have their own plans for the central bank, which underlined the populist pressure that's also cropped up from Italy and Turkey of late.
Pakistan Extends Talks After Failing to Reach IMF Loan Deal
If Vegas were betting on trade-war winners, the odds for the U.S. would have faded this week – though China's aren't any better, either. The two sides are even less likely to make nice at the G-20 in Buenos Aires at month's end, having thwarted APEC's attempt at even a token joint statement last week's gathering. The U.S. VP doubled down on China attacks, the U.S. Trade Representative stepped up charges on IP theft, and President Xi Jinping headed to Philippines to embrace a new pal. And it's hard to find a winner on the straight economic battleground, even as the U.S. has been breaking away from China's path. Xi is clamoring for a lending boost to the private sector at the same time that debt remains a systemic danger. Here's a chart-heavy rundown of the Xi economy.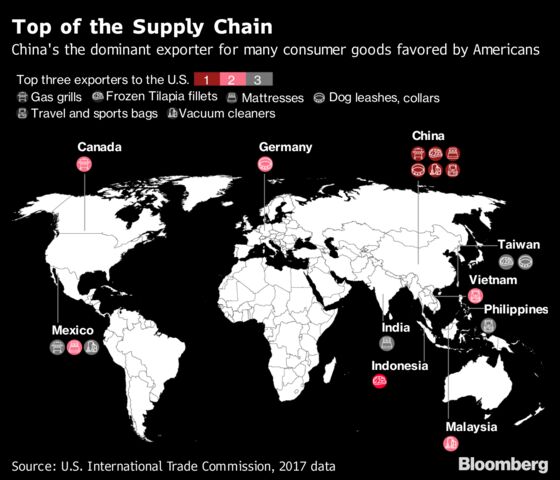 Last week's drama for U.K. Prime Minister Theresa May bled into this week as she shuttles between London and Brussels for tweaks to a hugely unpopular Brexit plan. May won some support from the Bank of England boss, with a push for a longer transition, and the central bank is set to release a fuller analysis next week. Here are the several different ways things could go after May's expected Parliament vote loss. The stalemate is similarly sticky between the EU and Rome, though Mario Draghi has a secret weapon inside Italy's ruling party.
Macron Renews Call for European Unity Amid Warnings of Threats
Spain Insight: Return of Economic Escapees Makes Room for Growth