Markets Shrug as U.S., China Exchange Blows in Rising Trade War
(Bloomberg) -- It could've been worse. It's already priced in. Tariffs won't derail global growth.
Wall Street arrived Tuesday to an escalating trade war and a market that doesn't seem to care all that much. Yes, there was the now-common knee-jerk reaction to last evening's announcement that the U.S. will slap tariffs of 10 percent on $200 billion in Chinese goods. But in short order the yen rebounded, S&P 500 futures erased losses and Asian stocks rallied.
And even after China vowed to retaliate, U.S. investors showed little signs of angst, with futures briefly paring gains before staying higher. What gives?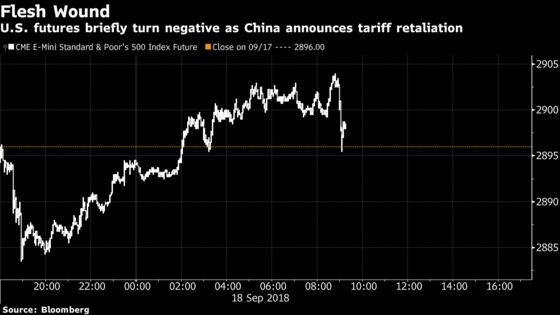 "Counter cyclical measures that are in place in the U.S. economy, which is fiscal policy, is enabling the U.S. economy to clearly outgrow the rest of the world," said Paresh Upadhyaya, a portfolio manager at Amundi Pioneer Asset Management, which manages about $89 billion. "So U.S. capital markets remain robust. And a lot of foreign markets are taking their cues from the U.S."
It's not that the latest escalation in the monthslong trade war is good news. It's that there are several reasons investors kept their cool:
With Asian equities near the cheapest valuations in more than two years, emerging-market stocks in a bear market and the Shanghai Composite Index closing at the lowest since 2014 on Monday, some trade fallout has already been accounted for.
Trump's plan to lift the levy to 25 percent next year means there's room for negotiation between now and then, including the chance of a more conciliatory stance after the U.S. mid-term elections.
And while the tariffs may kick in next week, the economic impact will take a lot longer to be felt. That means there's time to think about other things, like bumper Japanese profits.
A media outlet reported Chinese officials may announce measures to help build transport networks, which sent industrial companies higher and reassured investors the authorities will support the economy.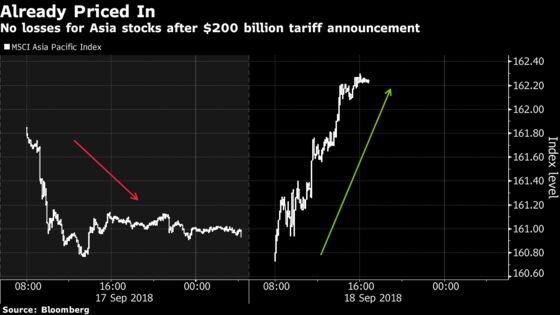 "The market had already largely priced in this round of tariffs," said Shahab Jalinoos, Credit Suisse Group AG's global head of FX trading strategy. "The debate was about whether it would be 10 percent or 25 percent. The fact that it was just 10 percent is a relatively good outcome at this point, and suggests the more moderate members of the White House team are still functional. "
The 10-year Treasury yield pushed above 3 percent, but its move of two basis points was muted. The dollar slipped versus major peers and held in against the yuan. Emerging-market stocks advanced.
Japanese stocks surged after a holiday on Monday. The Topix index closed 1.8 percent higher, the biggest gain since March.
"The market had anticipated the U.S. would impose additional tariffs by the end of the month," said Hiroaki Mino, a senior strategist at Mizuho Securities Co. in Tokyo. "Trade frictions remain as a weight on the equity market, but the market is in the middle of digesting trade concerns and increasing expectations over Japanese corporate earnings."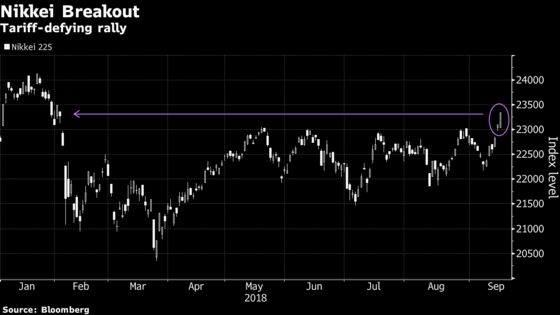 South Korean equities were modestly higher as President Moon Jae-in arrived in Pyongyang for talks with North Korean leader Kim Jong Un. The Australian dollar, a risk barometer that reversed its 0.5 percent decline, sat at 72.16 U.S. cents.
Chinese equities fluctuated in morning trading and then jumped amid expectations the government will take steps to offset the negative effect of U.S. tariffs.