The Year's Top Currency Forecaster Bets on Weaker Dollar by 2019
(Bloomberg) -- This year's most consistently accurate currency forecaster is waiting for the dollar to stumble.
Silicon Valley Bank, based in Santa Clara, California, says bets on greenback gains are too crowded and expects them to unwind going into year-end. Hedge funds and other speculators are already trimming net-long dollar positions in the futures market, after amassing the most bullish stance since the start of 2017. Last year, an unraveling of such positions coincided with the start of the dollar's longest quarterly slide since 2006-2008.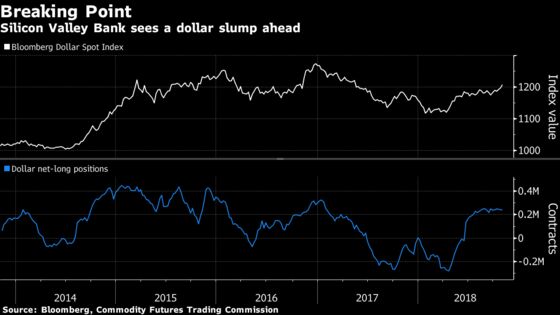 Drivers such as interest rates and economic growth could support a bit more dollar strength, in Silicon Valley Bank's view. But geopolitical risks will move to the fore, namely tensions between China and the U.S., and equities weakness will weigh on the currency too, said Scott Petruska, the bank's senior currency strategist. He expects losses in U.S. stocks to continue, dragging 10-year Treasury yields down and making the dollar less attractive. The combined effect could drive away global investors.
"The headwinds are gaining in strength, and that's why we're maybe only going to get 1 or 2 percent more in the dollar, and then I think that's that," Petruska said. "Then, I think it's going to reverse going into year-end."
Silicon Valley Bank was the only firm to place in the top 10 in terms of accuracy in each of Bloomberg's past three quarterly rankings of currency forecasters.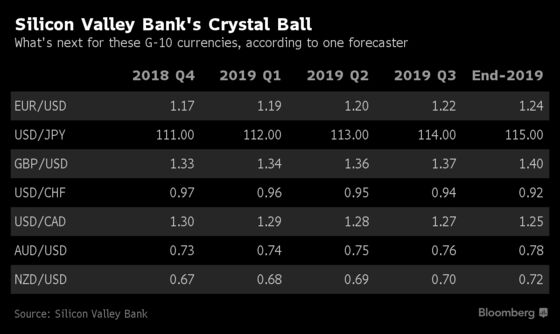 The Bloomberg Dollar Spot Index touched the highest since May 2017 on Tuesday, powered by expectations for further Federal Reserve rate hikes and an outperforming U.S. economy. The greenback is up about 4 percent this year, defying consensus calls at the start of 2018 for the dollar to weaken.
Money managers can expect a dollar downtrend that could last years, Petruska said. Part of the trigger could come later this year with agreements on Brexit and an approved Italian budget, both of which he expects by the end of December, buoying the euro and British pound.
Petruska and two other colleagues in Boston produce the bank's FX calls. The bank was established in 1983 and is a unit of SVB Financial Group. Its currency clients include BuzzFeed Inc., Etsy Inc. and Roku Inc., according to Petruska. It uses its forecasts to minimize currency risk facing startups and other tech-oriented companies that tend to do business globally, he said.
Petruska anticipates that a Brexit agreement will push the pound to $1.33 by year-end, from about $1.27 now
He'll also be monitoring credit markets, waiting for what he says is a bubble to start collapsing, taking other U.S. assets and the dollar tumbling with it