U.K. Prime Minister Puts on 'The Boris Johnson Show' at UN
(Bloomberg) -- U.K. Prime Minister Boris Johnson, the Latin scholar with a well-earned reputation for English wit, pulled out all the stops on the New York stage that is the United Nations's annual meeting.
This is the setting where leaders can put on a show for a captive global audience. It's where Libya's one-time dictator Moammar Al Qaddafi once ripped up the UN charter and Israel's former prime minister Benjamin Netanyahu drew a cartoon of Iran's nuclear bomb. In the aftermath of Donald Trump's turbulent presidency, though, things have tended to be a little more staid. 
Enter Boris, as he's known back home. Faced with an energy crisis in the U.K. that has seen gas prices skyrocket, food shortages after Brexit and now the fast-fading prospect of a U.S.-U.K. trade deal, Johnson came to the podium needing to give a rousing speech.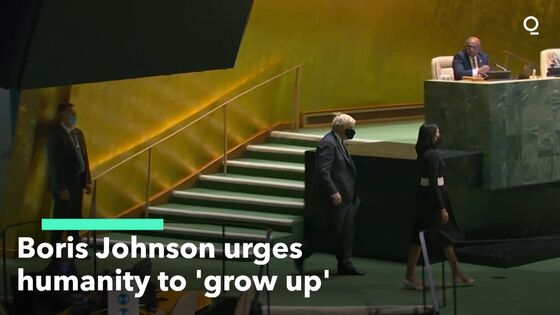 He is due to host UN-backed climate talks in Glasgow in late October and faces the challenge of convincing the biggest economies and polluters, such as the U.S. and China, to significantly boost their financial commitments and pledges on reducing emissions. 
Countries have been trying to produce an agreement to phase out coal power before the climate summit in order to keep the Paris Agreement goal of limiting warming to 1.5ºC from pre-industrial levels within reach. 
But it remains unclear how much COP26 will succeed given the enormous post-pandemic expectations.
Johnson used his speech to the General Assembly to issue an environmental call-to-arms by way of Greek playwright Sophocles and Prometheus, the mythical god who gave mortals the gift of fire, but with a nod and wink to popular culture too in the form of Kermit the Frog from the Muppet Show.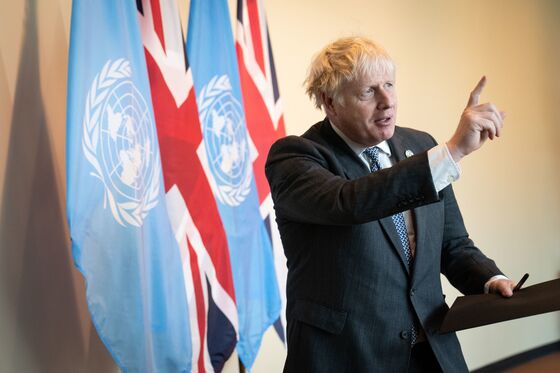 "We still cling with part of our minds to the infantile belief that the world was made for our gratification and pleasure and we combine this narcissism with an assumption of our own immortality," he said.
He spoke of how the world must embrace green technologies with "Promethean faith" and how Kermit sang "It's Not Easy Bein' Green."
Earlier Tuesday, U.S. President Joe Biden promised more funding to help poorer nations fight climate change. President Xi Jinping followed hours later, saying China will stop building coal-fired power plants abroad, a move long sought by climate activists. 
Johnson, by his own admission, was once a climate skeptic. On a flight to New York with reporters, he recalled some old comments his current trade secretary made on the climate.
"I don't want to encourage you, but if you were to excavate some of my articles from 20 years ago you might find comments I made, obiter dicta, about climate change that weren't entirely supportive of the current struggle."
At the UN, he went on a small tangent to note that Sophocles used the Greek word Deinos -- which can mean both scary and awesome -- to describe man.
"In the next 40 days we must choose what kind of awesome we are going to be," he concluded.