The Ship Bottleneck Off Los Angeles Is Getting Longer Again
(Bloomberg) -- Supply Lines is a daily newsletter that tracks trade and supply chains disrupted by the pandemic. Sign up here.
The number of container ships waiting to enter the largest gateway for U.S. trade with Asia increased to a 3 1/2-month high, adding delays for companies trying to restock inventories on expectations for a solid economy in the second half of the year.
Twenty-six vessels were anchored awaiting berth space outside the twin ports of Los Angeles and Long Beach, California, as of late Wednesday, the most since April 4, according to officials who monitor marine traffic in San Pedro Bay. That's up from 18 a week earlier and almost triple a 2021 low of nine set in late June.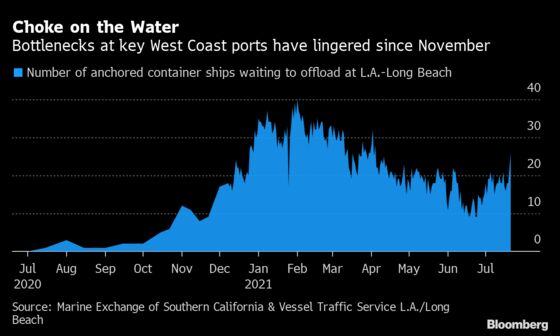 Harley-Davidson Inc. is among the latest American companies to blame ocean shipping woes and a scarcity of semiconductors for its challenges.
"We see congested ports, shipping container shortages, volatility in schedules and receiving and obviously the highly publicized semiconductor chip shortages," Jochen Zeitz,cChief executive officer of the motorcycle maker, said on a conference call Wednesday. "So all of those are challenges that affect us and affect our suppliers, but so far so good. We have not seen any significant blackouts in our factories."
The timing of the widening cargo backlog on the West Coast is bad for a couple of reasons. Retailers, manufacturers and other firms typically place big orders for imported goods and parts so they arrive in late July and August for back-to-school and holiday shopping seasons.
On top of that added seasonal demand may come inland transportation congestion for goods shifting to rail cars from ships. Union Pacific Corp. this week temporarily halted rail movement of containers from western ports including L.A.-Long Beach to clear a logjam of boxes near Chicago.
All that stretched capacity is pushing container shipping rates to record highs. According to the Drewry World Container Index released Thursday, the spot rate for a 40-foot box from Shanghai to Los Angeles reached $9,953, up 2% from the previous week and more than triple a year ago. Shanghai to Rotterdam rates topped $13,000 for the first time, compared with about $1,800 12 months ago.
The transpacific trade routes have been disrupted in recent weeks by partial closure of a major port in southern China because of Covid outbreaks among the workers.
Those kinds of concerns are shifting to ports in Vietnam, where stay-home orders have been issued to quell rising numbers of cases in Ho Chi Minh City, the country's commercial hub.
Vietnam is a much smaller U.S. trading partner than China is, but many companies moved production there during the U.S.-China tariff war. The U.S.'s goods trade deficit with Vietnam is now its third biggest, behind China and Mexico, according to figures through the first five months of 2021.