The Secret Push to Tie the Hands of Italy's Populist Government
(Bloomberg) -- From his hilltop palace overlooking Rome, the Italian president is working the back channels of the state apparatus to restrain the administration he swore in less than four months ago.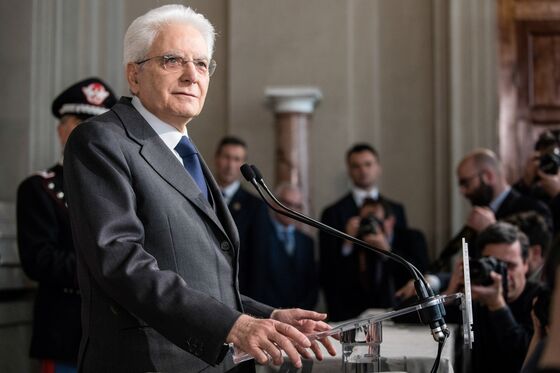 A former minister and judge, 77-year-old Sergio Mattarella has formed a quiet alliance with Prime Minister Giuseppe Conte and Finance Minister Giovanni Tria, according to senior officials who asked not to be named discussing the maneuvers. Their aim is to temper the more extreme impulses of the populists who hold the real power in the governing coalition.
Mattarella's first objective: a budget that will start to bring down Europe's biggest pile of government debt and lower the risk of a financial crisis.
The tax cuts demanded by Matteo Salvini's League and the new benefit spending that his fellow deputy premier, Luigi Di Maio of the Five Star Movement, has promised could push next year's deficit to as much as 5 percent of GDP if fully implemented.
Tria is the public face of the campaign. But Mattarella is coordinating the resistance with Conte.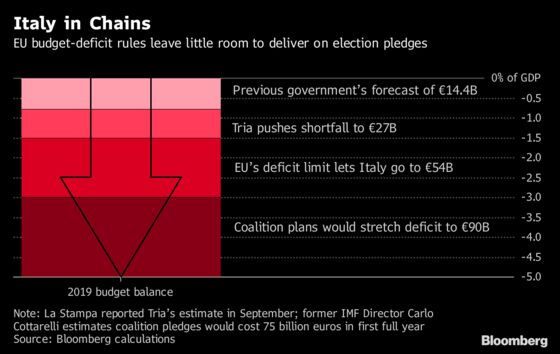 President and prime minister speak frequently and discuss all aspects of the country's political challenges, drawn together by their shared commitment to the European Union and its budget rules, according to one official.
"Mattarella is acting behind the scenes as a brake on Salvini and Di Maio," said Giovanni Orsina, professor of government at Luiss university in Rome.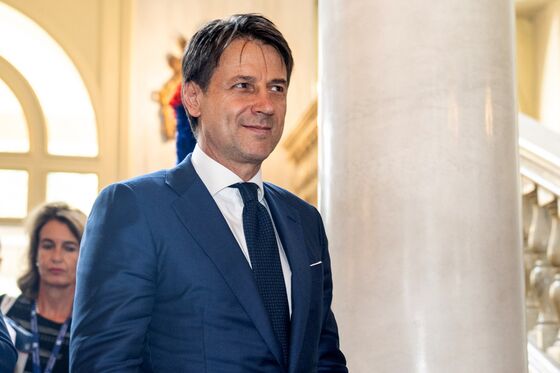 The president is trying to steer his country through the political minefield created by March's general election.
Angered by years of economic stagnation, a wave of immigration from North Africa, and a general sense that the country was on the slide, voters ditched the traditional parties in favor of Five Star's anti-establishment push and the League's tirades against foreigners.
After three months of maneuvering, their unlikely alliance banished concerns that the divided parliament might make Italy ungovernable. But it also produced a government committed to a double dose of populism, with campaign promises from both parties to honor. Conte, a law professor with no political base of his own, was recruited to mediate.
"The fact that we have a premier who is new to politics, and two deputy-premiers who are political heavyweights, is pretty novel in Italian constitutional history," said Giovanni Tarli Barbieri, a professor of constitutional law at Florence University.
In more normal times, the Italian head of state would steer clear of partisan politics like those in Germany or the U.K. (and unlike France's executive presidency). But the responsibility for approving certain decisions of parliament means that at times of crisis he or she can be drawn into the fray.
It was Mattarella who oversaw the quest for a government and Mattarella who vetoed the populists' initial candidate for finance minister, an economist who had argued Italy should be prepared to quit the euro.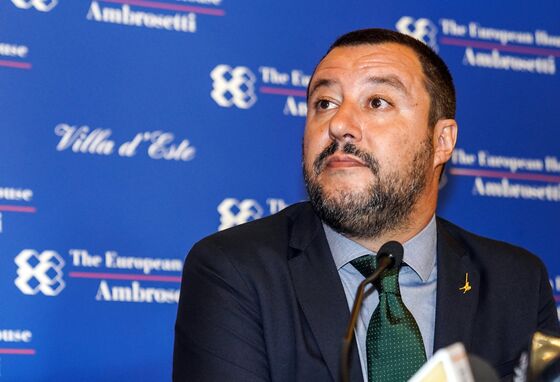 Since blessing the Salvini-Di Maio plan, the president has kept away from the spotlight. His public statements have emphasized the values that underpin Italy's democratic system, albeit with pointed allusions to Salvini's nationalism.
Last month he spoke of the "suffering and courage of immigrants" and in September he talked of how stirring up nationalist sentiment can lead to conflict. After the League leader railed against prosecutors, Mattarella emphasized that "no one is above the law."
Meanwhile, in government ministries, the influence of Mattarella and his allies -- who also include Foreign Minister Enzo Moavero Milanesi -- is slowing the advance of the populists' policies, according to one senior member of the League.
As well as the budget process, the government has yet to pull Italy out of the EU's Mediterranean rescue operation for migrants, said the League member, who holds a senior position in the administration. A push toward ending EU sanctions against Russia is also stalled, he said.
He compared Mattarella and Tria to "Soviet political commissars" -- fighting to stop the old regime from disappearing.
Mattarella's staff have demanded that Salvini, who is also interior minister, change an immigration decree which is due to go to cabinet for approval Monday, newspaper La Stampa reported Saturday. The presidency considers that new restrictions on the rights of asylum and citizenship for foreigners are unconstitutional, the newspaper said.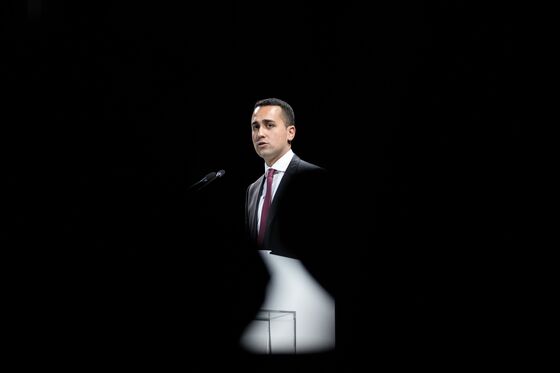 The campaign is showing signs of success on the budget as well. Salvini and Di Maio have reined in the more aggressive rhetoric that sent Italian bonds tumbling earlier this month and begun to pay lip service at least to the budget rules. The government has until Thursday to publish its deficit projection for next year.
"We are absolutely convinced (and it can be seen by everyone) that in the ministries there are people who are working heavily against us," Five Star said Saturday on the party blog.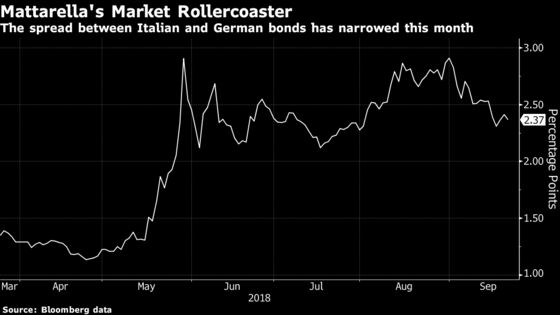 Under Italy's 1948 constitution, the president's duties include ensuring a balanced budget, with adequate funding for new laws, and respect for international commitments. Mattarella, who served on the constitutional court from 2011 to 2015, considers those international obligations include EU budget rules, the state official said.
But it's a high-wire act for the president all the same.
He can refuse to sign a law and send it back to parliament for revision. But he can only do that once per law and he risks a constitutional crisis if he gets into a direct confrontation with the populists.
With investors reassessing daily the risks of financing the Italian state, the biggest debtor in Europe, a constitutional crisis could swiftly morph into a financial one.
Di Maio already threatened to start impeachment proceedings once, when his first pick for finance chief was vetoed. And Italian newspapers in recent weeks have carried reports that Tria's resignation has either been threatened or demanded, though both Di Maio and the finance ministry said they weren't true.
"So far Mattarella is exercising chiefly moral suasion to press for healthy public finances and to remind them of European Union commitments," said Orsina, the Luiss university professor. "If Tria quits or is forced to quit, you'll have the spread with German bonds through the roof."