The Money Is Split on Bets for Imminent Czech Rate Increase
(Bloomberg) -- Investors are intensifying pressure on the Czech central bank to raise borrowing costs next week after a string of verbal interventions failed to prop up the weaker-than-expected koruna.
Following three interest-rate increases between August and February, the Czech National Bank forecast last month that the currency's gains would cool the economy and the next hike wasn't needed until around end-year. But the koruna retreated instead, trading on average 1.4 percent weaker against the euro than the bank's projections in the second quarter, all while a deepening labor shortage and rapid wage growth added to inflationary pressure.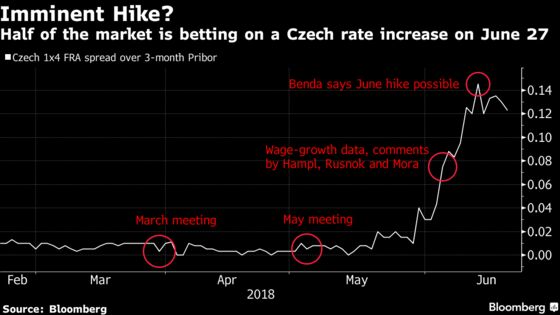 Policy makers have turned more hawkish this month, signaling earlier hikes are needed and a move as soon as the board's meeting next week can't be ruled out. But with an emerging-market selloff that's hammered the Polish zloty and the Hungarian forint, as well as oversized bets on the koruna from before the bank ended a cap on appreciation last year, the Czech currency hasn't responded.
"The koruna is still overbought, reducing its sensitivity to the widening interest-rate differential to the euro," said Jakub Seidler, chief economist at ING Groep NV's Czech unit. He expects policy makers to raise the key rate 25 basis points to 1 percent next week. "If the CNB doesn't deliver the koruna will weaken even more."
Still, the hawkish camp will be weakened at next week's meeting, after the central bank said Wednesday that Vice Governor Mojmir Hampl wouldn't attend. The only rate setter who voted for a quarter-point increase on May 3 said in an interview on June 1 the economy requires "rather fast" monetary tightening, and the koruna weakening only boosts the case for hikes.
The koruna, which was the world's best-performing major currency last year, has depreciated 2.2 percent this quarter to 25.93 per euro on Thursday as of 10:23 a.m.
Forward-rate agreements fixing interest in one month's time traded about 11 basis points above the Prague interbank offered rate, showing that investors are almost evenly split between those expecting a hike and those betting on no change on June 27. That's a dramatic shift from the almost complete absence of wagers on an increase in early June.