The Long and Winding Road to Italy's Budget
(Bloomberg) -- Italy's government is sticking to its budget plans, ignoring the concerns of investors and a bond selloff that's pushed its yield premium to a five-year high.
Since announcing that the deficit ratio will widen to 2.4 percent of GDP next year, Deputy Prime Ministers Matteo Salvini and Luigi di Maio have rejected criticism by European Union authorities, escalating tensions between the sides. The fiscal targets were released in a haphazard way, with some details dripping out over days. That was just the latest stage in a political struggle that's had multiple twists and kept investors on edge since the start of the summer.
The coalition is sending the budget plan to the European Commission (though is likely to pay little heed to the feedback) and will put the draft bill to lawmakers for approval and then the president. But even getting this far has been a slog.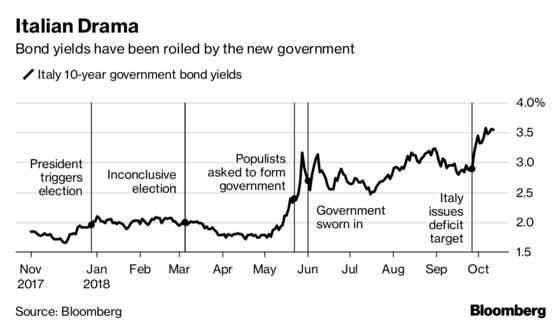 This year alone, there's been an inconclusive election in March, which led to months of haggling before Di Maio's Five Star Movement and Salvini's League hammered out a deal to form a government. But since they took power, it's been controversial, and at times chaotic, with disagreements on policy priorities and a non-stop debate over how far to blow out the deficit.
Let's see how we got here, and how markets have reacted to the uncertainty.
Renzi Referendum (Dec. 4, 2016)
The beginnings of the current situation go back to 2016, and a referendum on constitutional reform that was the signature policy of former Prime Minister Matteo Renzi. After it was decidedly rejected, Renzi quit and Paolo Gentiloni took over a caretaker administration. But Five Star accused it of being a "puppet government" and kept rising in polls before new elections.
Italian 10-year yield: 1.88%
FTSE MIB Index: 18,601
Election Called (Dec. 28, 2017)
Long expected, President Sergio Mattarella finally dissolved parliament, kick-starting the countdown to the election. From day one, a hung parliament – and potential political turbulence – was anticipated, and bond yields started to creep up. A day after the news, the 10-year broke through 2 percent for the first time in two months.
Italian 10-year yield: 1.96%
FTSE MIB Index: 22,121
The Campaign (Jan. 1-March 3, 2018)
Three major groups dominated the campaign: a center-right coalition led by Silvio Berlusconi and including Salvini's euro-skeptic League; the anti-establishment Five Star; and the Democratic Party led by former premier Renzi. Immigration was among the major topics during the campaign, while there were also expensive election promises thrown around and even talk from some politicians of quitting the euro.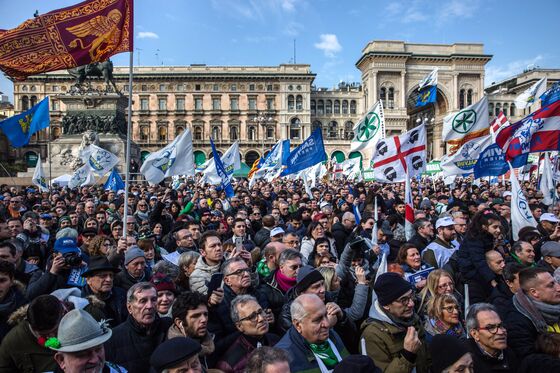 Stoking the anti-establishment vote was a feeble recovery. While 2017 economic growth was the best since 2010, it lagged behind the euro-zone average and the unemployment rate remained in double digits. The last polls before the vote on March 4 suggested a hung parliament.
Italian 10-year yield: 1.97% 
FTSE MIB Index: 21,912
And so it came to pass, with no group winning enough to govern alone. But it was a breakthrough for the populists: Five Star emerged as the biggest single party, while the League overtook Berlusconi's Forza Italia to become the dominant right-of-center party. An early victim of the election was Renzi, who quit as PD leader after overseeing its worst ever performance.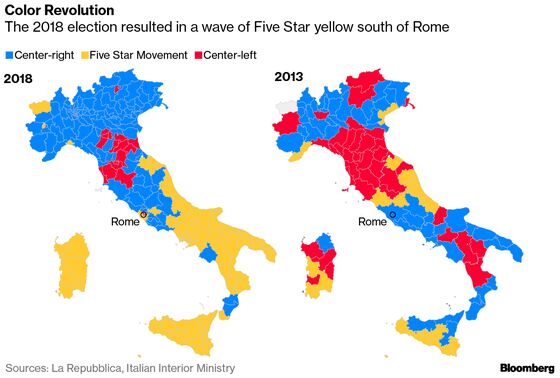 Italian 10-year yield: 2%
FTSE MIB Index: 21,820
 The Haggling (March 6-May 31)
After the acrimonious election campaign, it was time to find a way forward. Various combinations were discussed, but the deadlock rumbled on. Then Five Star and the League began talks, and yields began to climb as investors grew wary of such a combination, particularly after leaks that the two were discussing a write-down of billions of euros of debt by the ECB.
Five Star and the League published a draft program mid-May, but the ups and downs of negotiations meant at one point a second election looked on the cards. For the first time in four years, Italian 10-year yields broke through 3 percent. Eventually, a deal was brokered and Giovanni Tria was appointed finance minister. Markets were somewhat relieved, as Tria was seen as less euroskeptic than others linked to the post, including economist Paolo Savona, who'd been vetoed by the president.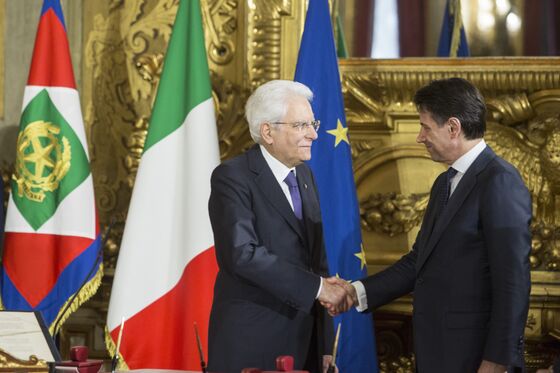 Italian 10-year yield: 2.79%
FTSE MIB Index: 21,784
New Government (June 1-11)
The government is sworn in, and the whipsawing of markets continues. Bonds take a hit during the maiden speech of Prime Minister Giuseppe Conte, with markets responding poorly to his "new wind of change" language and endorsement of expensive budget promises. Yields move back above 3 percent before Tria steps in and affirms Italy's commitment to the euro.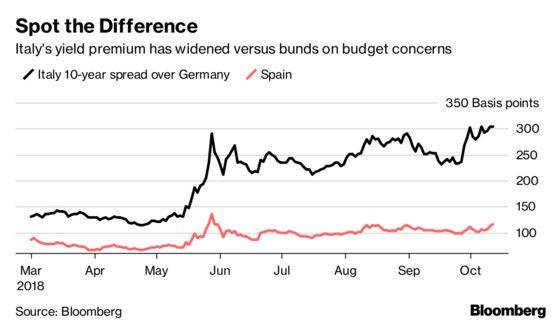 Italian 10-year yield: 2.84%
FTSE MIB Index: 22,086
Back and Forth (June-August)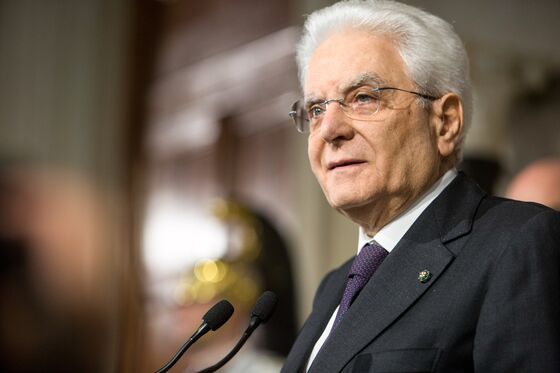 Where to start? A public debate played out in the national media over the budget. While the EU sets a deficit limit of 3 percent of GDP, Italy needs to come in far lower to prevent its debt ratio from widening.
The previous government set a 2019 target of 0.8 percent, Tria reportedly wanted it no higher than 1.6 percent, but Salvini and Di Maio wanted more to fund their pledges (including a citizens' income and tax cuts for low earners). That led to speculation that the finance minister would either be fired or quit. He's still there, often trying to be a calming influence.

There were pleas to the ECB to keep up QE and stories that President Donald Trump told Conte the U.S. was willing to help the country by buying government bonds. Yields dipped briefly below 2.5 percent, but moved higher again through August and, by the end of the month, were back above 3 percent.
Italian 10-year yield: 3.24%
FTSE MIB Index: 20,269
Clock Ticking (September)
As September rolled around, the coalition appeared to soften its tone somewhat, and bond yields declined. But tension was never far away, and there were reports that the Five Star leader was threatening to pull out of the coalition, though that was later denied. Bloomberg then reported that Mattarella was working behind the scenes with Conte and Tria to curb the excessive impulses of the coalition leaders.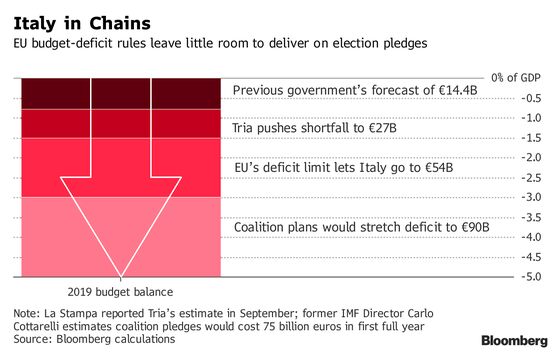 On Sept. 27, a self-imposed deadline, Rome finally released its 2.4 percent deficit target for 2019, disappointing investors and sending bonds tumbling. It finally published the full plan, including assumptions that many said looked overly optimistic, a week later.
Italian 10-year yield: 3.33%
FTSE MIB Index: 20,613
Since then, bonds and stocks have fallen against a backdrop of vicious verbal sparring between Brussels and Rome. European Commission President Jean-Claude Juncker seemed to draw a parallel between Italy and crisis-stricken Greece, infuriating Italian leaders. Rome responded by calling senior EU figures the ``enemies of Europe'' for their budget restrictions.
As all this has played out, investors have pushed bond yields higher and Italy's biggest newspapers have run front-page stories about what they call "lo spread."  That's the gap between Italy's 10-year yield and Germany's, which is currently above 300 basis points, a level last seen back in 2013.
Italian 10-year yield: 3.58% 
FTSE MIB Index: 19,256