The G-7 Held a Call on the Virus and Only the Fed Did Anything
(Bloomberg) -- Finance ministers from the richest nations and their central bankers held a rare conference call early Tuesday. They pledged to do whatever it takes to support a global economy under acute threat from the coronavirus.

When they hung up the phone, only a single institution sprang into action. The U.S. Federal Reserve cut its benchmark interest rate by a half-point -- the biggest reduction, and the first one outside of scheduled meetings, since the crisis year of 2008.

But from the moment Fed Chairman Jerome Powell stepped in front of the cameras to explain his emergency move, markets started tanking. The Fed action didn't reassure investors. It alarmed them because nobody else seemed to be stepping up.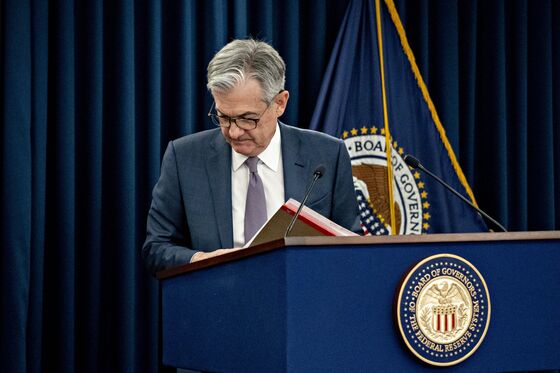 America's fiscal authorities, in particular, were missing in action. Stocks plunged for the rest of the session, and yields on government bonds hit all-time lows.
Congress and the White House can't halt global epidemics, or conjure up vaccines, any more than the Fed can. But their power to spend more, or tax less, means they're better equipped for the task of shoring up an economy facing the sorts of disruptions that the rapidly spreading coronavirus creates -- busted supply chains, canceled events, closed schools.

"Here we have a shock that – more than any shock in decades -- merits a fiscal response and to which monetary policy is ineffective," said Adam Posen, president of the Peterson Institute for International Economics, and a former Bank of England policy maker.

"Why wasn't there some coordination statement from the Treasury?" he said. "It matters a hell of a lot right now."
All kinds of investors and economists have spent years building the case that future crises will require teamwork between central bankers who control borrowing costs, and politicians in charge of budgets. It's a persuasive theory. There wasn't much sign of it in practice on Tuesday.
Treasury Secretary Steven Mnuchin applauded the Fed's decision to cut rates -- and had little to offer by way of other action. Mnuchin told reporters Tuesday that "all of our tools are on the table," without identifying any of them. He said the administration isn't planning a temporary payroll-tax cut or reduction of tariffs on Chinese imports, which could offer support to the economy.

Mnuchin also said that he's "highly confident" of getting bipartisan support in Congress -- which controls the U.S. purse-strings -- for fiscal measures if they're necessary. President Donald Trump tweeted that he'd support a payroll tax-cut if Democrats pass it.
But both Democrats who control the House and Republicans who hold the Senate majority say it's too soon to consider stimulus measures. Neither party appears to be persuaded that the longest-ever U.S. expansion is in danger of coming to an abrupt end – even though that's the red-alert signal flashing across financial markets.
Massachusetts Democrat Richard Neal and Iowa Republican Chuck Grassley, who head the House and Senate tax-writing committees respectively, have said the economic impact in the U.S. has been limited thus far. Vice President Mike Pence, appointed by Trump to lead the coronavirus task force, spoke with senators Tuesday but didn't mention additional tax measures, according to Republican Senator Mike Braun of Indiana.
House Majority Leader Steny Hoyer, the second-ranking House Democrat, said the supplemental funds Congress is working to approve this week will provide a "relatively small figure" for fiscal stimulus.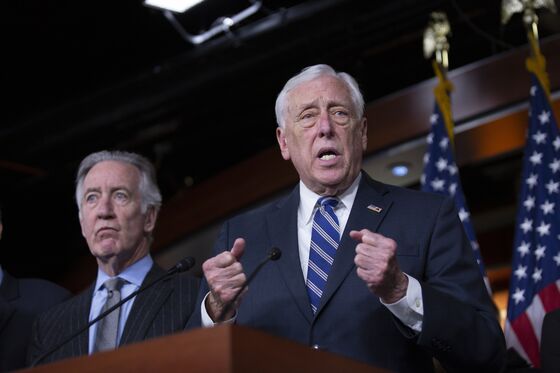 The bill is focused on helping public-health authorities combat the virus, not on supporting the economy. It would likely add $7.5 billion of spending, about 0.03% of GDP. Hoyer said he considered Trump's proposal for a payroll tax cut to be "more politics than health."
Policy coordination in a crisis, when each agency uses its own set of tools, helps to support confidence and reduce the overall cost of the response as officials get ahead of market sentiment. Ad-hoc policy responses, which is what the U.S. is delivering now, tend to be more costly.
Powell said at his press conference that the Fed's response can't be the whole solution.
"We do recognize a rate cut will not reduce the rate of infection, it won't fix a broken supply chain. We get that," he said. He said fiscal policy should help too, though he didn't press the point hard. Loretta Mester, head of the Cleveland Fed, was a bit more forceful.
"Appropriate actions taken by other parties, including global public health officials and fiscal authorities, would likely do more to support confidence and spending," she said Tuesday.
Then she ticked off a list of tasks that are essential – and beyond the Fed's immediate power: "Contain the spread of the virus, ensure adequate healthcare services are available to the sick, speed development of a vaccine, and provide relief to workers and smaller businesses."

The virus is poised to hit a U.S. economy with unemployment near record lows. The Fed has enthusiastically embraced the creation of jobs, and improvement in wages, for the most vulnerable groups – like minorities, and those without college education.
But those workers are especially at risk from the virus, according to Constance Hunter, chief economist at KPMG LLP – who now predicts the U.S. economy will shrink 0.9% this year.
"This is the perfect time to engage in a targeted, timely and temporary fiscal response," said Hunter. She points out that some 24% of the U.S. population has no paid sick leave, and about 9% has no health insurance. In the low-wage service industries where job-creation has been concentrated, the numbers are likely higher.

Some governments had taken fiscal action before Tuesday's G-7 call. Italy, the European country with the most virus cases, has pledged tax relief for businesses and Hong Kong offered cash handouts to consumers.

Even if it couldn't shore up financial markets on Tuesday, America's central bank is now better-placed to encourage similar efforts, said Tony Fratto, the co-founder of Hamilton Place Strategies and a former assistant Treasury secretary.

"The best thing about the Fed acting today is, now they can point to everyone else," he said.