The Best Case Scenario: What the Trump-Xi Dinner Could Yield
(Bloomberg) -- Whatever happens in Buenos Aires when President Donald Trump and China's Xi Jinping dine on Saturday night, the trade wars are set to be with us well into 2019 and possibly beyond.
There's a good reason talk swirls about the world slipping into a new Cold War. Power politics are alive and well. And the issues between the world's two largest economies are too complex and longstanding to be solved in a few hours.
That doesn't mean a ceasefire isn't possible. Based on conversations with officials on both sides and analysts familiar with the discussions this is what the best-case scenario looks like:
Stabilizing the Relationship
Trump has in his 22 months in office succeeded in disrupting the globe's most important economic partnership and befuddling Chinese officials. Yet Chinese officials privately say they have learnt that Trump reflects more than a passing phase in the relationship.
They are right. In Washington there is a rare consensus among Democrats and Republicans as well as current and former national security and economic policymakers that China has become a bad actor and that it needs to be confronted.
But on both sides of the Pacific concerns also remain about the consequences of an all-out economic war as reflected in nervy financial markets. Both the U.S. and China therefore have reason to seek at least a pause in their conflict.
Chinese officials say their top priority is finding a way to stabilize the relationship and drawing the U.S. back into the sort of structured dialogue that allowed both sides to manage past differences. The Trump-Xi dinner is their best opportunity to do that. A ceasefire is the first step.
Trump's administration has seized on tariffs as a favored tool. "I happen to be a tariff person because I'm a smart person, OK?" the president told the Wall Street Journal this week.
Trump also has demonstrated a penchant for truces, however.
When European Commission President Jean-Claude Juncker visited the White House in July he won a break that helped the EU fend off auto tariffs. Likewise, Japanese Prime Minister Shinzo Abe extracted from Trump a moratorium on those same auto tariffs as a condition for entering trade negotiations that, as with the EU, aren't set to begin in earnest until 2019.
That is why many analysts believe the best -- and most realistic -- potential result of Saturday's dinner will be a ceasefire featuring a pause in any new tariffs.
The Trump administration has imposed duties on $250 billion in imports from China so far. On January 1 the 10 percent tariff on $200 billion of that total is due to rise to 25 percent. So one goodwill gesture would be to delay that escalation while talks proceed, a move that would be welcomed by U.S. companies concerned about trade war. Trump has also threatened to impose import duties on the remaining commerce with China, which he could also suspend.
Any such moves would, however, require Chinese concessions. One obvious one: The removal of the retaliatory tariffs China imposed on American soybeans, which hit harvests from Trump-supporting states such as Iowa and North Dakota.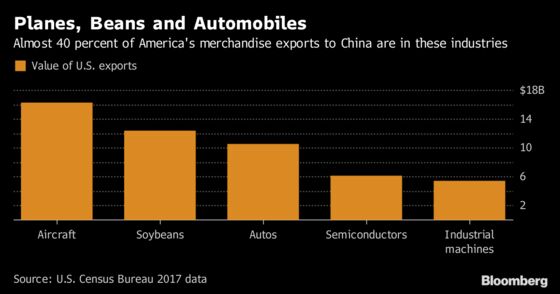 A Frozen Conflict and a Long Conversation
Since the beginning of their assault on China, Trump officials have repeatedly scorned the way past American presidents were drawn into prolonged dialogues with Beijing that ultimately went nowhere.
 
"The game that China has played -- and they played people in the Bush administration like a violin -- is to do the tap dance of economic dialogue," Peter Navarro, one of Trump's most hawkish trade advisers, said in a Nov. 13 speech in which he mocked even some of the Trump administration's early negotiations with China, including one that yielded a promise to buy more American beef that never delivered. "Where's the beef?"
But if the best result for Trump's dinner with Xi is a ceasefire, the most awkward component is it would trigger a prolonged conversation that may go nowhere and mark a repeat of the very same pattern that Navarro ridiculed.
Any final armistice in the trade wars will thus be difficult to reach. The Trump administration is seeking fundamental changes to Chinese economic policy and an end to things like industrial subsidies via cheap loans and intellectual property theft that spurred China's economic rise. China too has demands, such as an end to U.S. export controls on vital technologies and what it sees as a discriminatory scrutiny of its investments in America.
Wendy Cutler, a former senior U.S. trade negotiator, said any return to the negotiating table is unlikely to quickly resolve the deep differences or go smoothly. "It's a path that undoubtedly will be paved with many bumps and setbacks," she said.  
The politics in the U.S. are also difficult. Both the consensus skepticism of China and the high-volume partisan nature of Washington politics mean any deal Trump strikes will be scrutinized. One that he struck in May resulted accusations he had gone soft. Within days Trump switched and ordered up tariffs.
For that reason, success in Buenos Aires looks like a truce that may yield little more than a frozen conflict and a lengthy conversation. That looks like the best case.