China's Frugal Consumers Squeeze Margins, Hammering Stocks
(Bloomberg) -- Companies that depend on China's consumers have for months had to contend with a notable slowdown in spending. The latest earnings season has uncovered another big worry.
Businesses were already under pressure thanks to the "consumption downgrade" that's seen retail sales weaken this year. Now, bottom lines are at risk due to an intensifying battle to attract customers in the world's second-biggest economy. That spells trouble for investors who thought stocks tied to domestic growth would help them weather the trade war.
Among the companies saying they're prepared to sacrifice margins in their fight for Chinese wallets -- or more likely nowadays Alipay swipes -- are food-delivery giant Meituan Dianping, e-commerce titan JD.com Inc. and the nation's largest food and beverage producer. A gauge of consumer stocks was the worst performer on China's CSI 300 Index on Friday.
"Consumers are now more sensitive to price increases than they were, and are really taking a more pragmatic 'more bang for buck' approach to spending, as the outlook for the economy becomes less optimistic," said Wang Zehua, an analyst at Horizon Insights in Shanghai.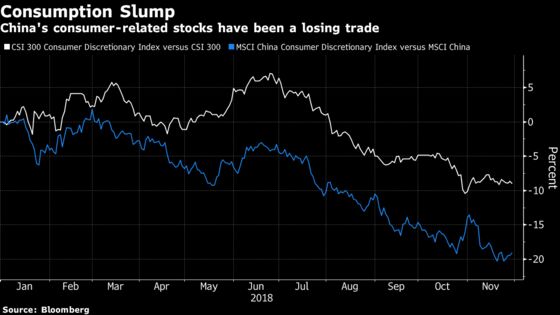 China fell out of double-digit economic growth at the start of this decade, but retail sales continued to rack up well over 10 percent gains even during the 2015 hard-landing scare, when a stock bubble burst. At that pace, total sales in the nation were doubling every several years. But in recent months, sales growth has dropped to around 9 percent.
As China's income levels climbed, the sophistication of consumers also advanced, fragmenting markets and putting pressure on businesses to spend money to market their services and products and come up with fresh ideas. That's become clear in recent earnings announcements:
Meituan is among those burning cash to keep, let alone expand, its customer base. The company, whose shares are down about 25 percent since their Hong Kong debut in September, saw its selling and marketing expenses surge 45 percent last quarter. Its gross margin slid to 24 percent of sales, from 35.5 percent last year.
JD.com revealed that technology and content expenses have almost doubled as it invests in talent and infrastructure -- in part to expand abroad. The company saw its first sequential slide in annual active customers since it went public in 2014.
Hong Kong jewelry retailer Luk Fook Holdings International Ltd. has seen sales drop across Greater China even after it cut prices for non-gold items earlier this year. Its shares hit the lowest since March 2017 on Thursday.
Even e-commerce giant Alibaba Group Holding Ltd., with its fingers in multiple consumer-segment pies, has been feeling the pinch this year, with margins shrinking thanks in part to investments in offline retail and local services.
Another whiff of investor panic came this week when China's largest food and beverage producer, Tingyi Cayman Islands Holding Corp., signaled that competition is heating up. The purveyor of bottled water and noodles said it will need to give up profits to gain market share. The news also triggered hefty losses for peers Uni-President China Holdings Ltd. and Want Want China Holdings Ltd.
Contagion spread far enough to wallop China Resources Beer Holdings Co Ltd. and milk-producer China Mengniu Dairy Co., which barely compete with Tingyi. The reaction was probably overdone, given that China's bottled-water business is particularly fragmented and might not be a good representation of broader trends, according to analysts at Citigroup Inc.
Chinese policy makers have decisively shifted their emphasis toward supporting growth, with tax cuts set to take effect in January. That may help cushion consumer-related companies, along with any boost to confidence from a prospective cease-fire in the trade war with the U.S.
For now, there seems little consolation for equity investors. A measure of consumer discretionary companies in the MSCI China Index is down 32 percent since the year began, by far the worst-performing group. A gauge tracking that group in the onshore market has dropped 24 percent in the second half alone, also making it the worst.
"Not only is the outlook for household consumption pressured, but companies targeting the Chinese consumer are being faced with an ever-growing wall of competition," said Eleanor Creagh, a strategist for Saxo Capital Markets who predicts China's economic slowdown will roll into next year. That "will continue to dent margins," she predicted.