The Aussie Is Increasingly Tied to China Risks, BNY Mellon Says
(Bloomberg) -- The link between Australia's dollar and China's stock market is now the tightest in more than a decade, illustrating the risks for the exchange rate as China decides how to respond to U.S. trade threats, according to Bank of New York Mellon Corp.
The Aussie became increasingly correlated with the markets of Australia's biggest trading partner in 2015, when China hard-landing fears contributed to a collapse in that country's stocks and its officials devalued the yuan. The correlation has been on the rise again since April, when U.S.-China trade tensions deteriorated, BNY Mellon analysis shows.
"The key question therefore when considering the AUD is how Chinese markets along with the CNY might react should a fresh announcement be made," Simon Derrick, chief currency strategist at BNY Mellon wrote in a note to clients this week, using the currency tickers for the Aussie and the yuan. "This could prove a critical few weeks for the AUD."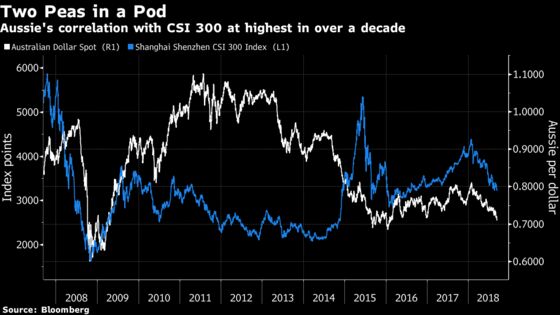 Australia's dollar is particularly sensitive to any escalation of a trade dispute between the world's two-largest economies as China buys more than a third of the nation's exports. The Australian dollar is the second-worst performing major currency against the greenback this year. It traded at 71.04 U.S. cents as of 11:01 a.m. in Sydney, near the 2 1/2-year low it hit Tuesday.
Also undermining the Australian dollar has been an historically large gap between Australian and U.S. interest rates, thanks to the Reserve Bank of Australia keeping its benchmark at a record low while the Federal Reserve continues to tighten policy.
"Yield support for the currency has continued to deteriorate over the summer to, in many cases, the weakest levels in 20 years," Derrick said of the Aussie.
Both dynamics -- trade tensions and rising U.S. interest rates -- have taken their toll on emerging markets, which may explain why those are also correlated with the Aussie, as you can read about here.