Thai Stocks Drop Most Since 2016 on China Ban on Group Tours
Thailand's stock market tumbled on the prospect of economic turbulence after China banned outbound group tours to fight the spread of the novel coronavirus that's sickened thousands of people.
The SET index slid 2.9% on Monday, the most since 2016, with tourism shares among those bearing the brunt of the drop. The baht weakened in line with emerging-market currencies on concern about the fallout from the virus.
Chinese holidaymakers -- many on group tours -- spent almost $18 billion in Thailand last year, more than a quarter of all foreign tourism receipts, government data show. The industry as a whole contributes 21% to gross domestic product, according to the World Travel & Tourism Council.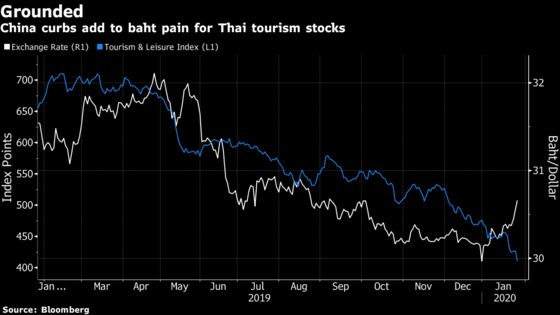 "There's going to be a significant drop in the number of Chinese coming to Thailand in what should be a peak period," said Win Udomrachtavanich, chairman of Ktb Securities (Thailand) Pcl in Bangkok.
Airports of Thailand Pcl, a bellwether for the tourism sector, declined 3.9%, the most since May last year. The Tourism & Leisure equity index fell to the lowest level in six years.
Both tourism and exports were already under pressure from a surge in the Thai currency. Disarray over the annual budget is another obstacle for growth.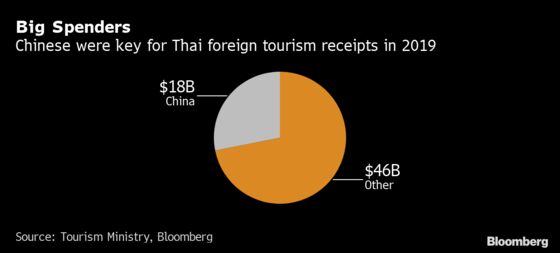 The government has rolled out more than $10 billion of stimulus steps in the past few months to cushion the economy, which the Bank of Thailand estimates expanded at the weakest pace in five years in 2019.
The new coronavirus originated in China, where dozens have died from the illness. Many nations have diagnosed the infection in travelers from China.
Thailand has so far confirmed eight cases, with five already discharged and the remainder hospitalized. Officials said about 48 people are being monitored for possible infection.
Criticism of the ruling coalition's handling of the virus outbreak dominated Twitter in Thailand in the past few days.
Health Minister Anutin Charnvirakul on Sunday advised Thais to avoid traveling to China but added there's no crisis that requires restricting Chinese arrivals.
"We're ready to take more steps if things escalate," Anutin said.
Prime Minister Prayuth Chan-Ocha said Monday Thailand "can 100% control" the outbreak and warned people to be wary of fake news about the alleged spread of the disease.
"We're not hiding any information," Prayuth said. "The most important things for us are the lives and health of our citizens."