Thailand Does the Once Unthinkable by Hindering Chinese Tourism
(Bloomberg) -- Thailand is hindering Chinese tourists because of the novel coronavirus outbreak, normally an unthinkable step for a country that relies on their spending for economic growth.
The government signaled Friday it prefers arrivals from China, Hong Kong, Macau, South Korea, Iran and Italy to self-quarantine for 14 days to prevent the spread of the Covid-19 disease. They also have to report daily to officials and face fines for non-compliance.
It remains unclear if the self-quarantine is mandatory or just strongly recommended, but at the very least officials have the power to impose it. Travel has already slumped, but the overall stance is set to further deter tourists from the six territories while the measures are in place.
Other countries have imposed restrictions on people coming from China, the epicenter of the outbreak, but few are as reliant on Chinese tourists as Thailand. They spent more than $17 billion in the Southeast Asian nation last year, over a quarter of all foreign-tourism receipts, and the industry as a whole accounts for about a fifth of the economy.
"Thailand has been hit very hard because we rely significantly on tourism," said Thidasiri Srisamith, chief investment officer at Kasikorn Asset Management Co. in Bangkok. "Chinese visitors are the biggest tourists and their absence has a vicious impact on the economy."
The Thai government plans an economic stimulus package worth more than 100 billion baht ($3.2 billion) to shore up growth, and said Friday tourist numbers have already halved after the virus dried up travel. It's assuming the disease outbreak can be contained and will end within six months.
"If Thailand can't contain the outbreak, all tourists will be gone," Kobsak Pootrakool, head of the Council of Economic Ministers, said in a briefing in Bangkok, adding that first-quarter economic growth is set to be "bad."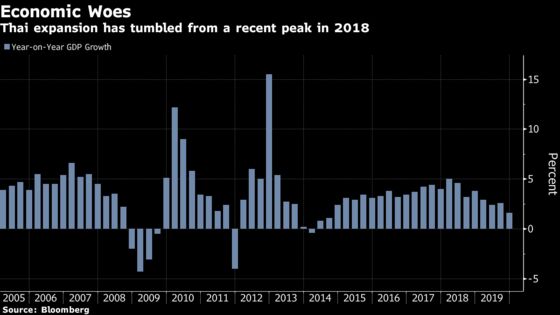 Thailand reported two new cases of infection Saturday, taking its total to 50. More than 3,000 people have died globally and in excess of 100,000 have been infected.
The travel restrictions and global economic gloom sparked by the new pathogen have soured sentiment toward Thai assets.
The benchmark SET index is down almost 14% this year, more than the drop of about 8% in the MSCI AC Asia-Pacific index. The baht has gone from being the strongest performer against the dollar among major Asian currencies last year to the weakest so far in 2020 with a slide of 4.6%.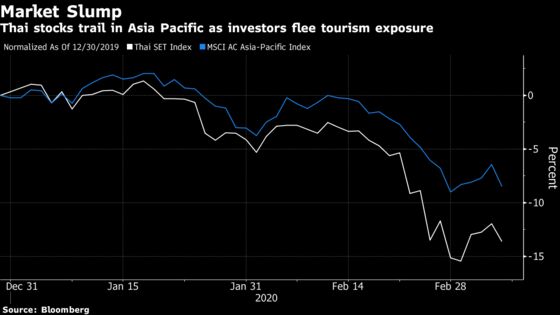 The government tweeted Friday afternoon on the self-quarantine requirements following a series of confusing flip-flops, but uncertainty remains.
One post said restrictions may be put on visitors from the six territories, including China, after they were designated danger zones for the virus. Other tweets suggested the quarantine requirements have been imposed and that people would be fined 20,000 baht for breaching them.
On March 3, Health Minister Anutin Charnvirakul said on Facebook that people arriving from a slew of territories must self-quarantine. The post was subsequently deleted.
On March 5, the Health Ministry recommended self-quarantine for people from high-risk nations. Later the same day, it said this was mandatory for a subset of those countries, before flipping back Friday to the position that it's advice, not a requirement.
Reflecting the confusion, airline Cathay Pacific said in an advisory that travelers from China, Hong Kong, Macau, South Korea, Iran and Italy "are allowed to enter the country but may be required to self-quarantine at their hotel or residence until their departure date."
The Tourism Authority of Thailand, a government agency, said if tourists from these territories view the new Covid-19 measures as "inconvenient," they may "consider postponing travel to another period."
Thais are now hunkering down for a painful few months in a country that relies on tourism and exports, both of which are suffering from the fallout of the coronavirus outbreak.
"The government's economic stimulus will help alleviate some of the economic impact, but not all," said Thidasiri of Kasikorn Asset Management.