Tesla Scores a Win in China as Local Model 3 Gets Tax Exemption
(Bloomberg) -- Tesla Inc. won exemption from a 10% purchase tax for its China-built Model 3 sedans, a potential boon for Elon Musk's company as it prepares to begin deliveries of locally manufactured electric cars in the country.
The Model 3 was included on a list of models qualifying for the exemption published by the Ministry of Industry and Information Technology on its website Friday. An exemption means buyers will need to shell out less. Tesla said in October the locally built Model 3 will be priced from about $50,000.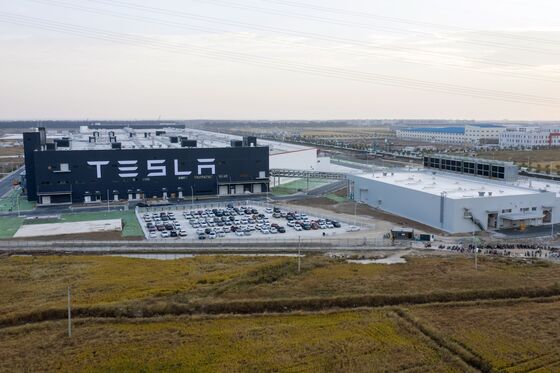 Chief Executive Officer Musk is counting on Tesla's new China plant to help build on recent momentum for the company in the world's largest market both for electric vehicles and autos in general. The Model 3 will compete with electric cars from local contenders such as NIO Inc. and Xpeng Motors, as well as global manufacturers including BMW AG and Daimler AG.
The company may lower the price of the locally assembled sedans by 20% or more next year as it starts using more local components and reduces costs, people familiar with the matter have said.