Tencent VC Arm Is Said to Seek a New Fund of Over $650 Million
(Bloomberg) -- Tencent Holdings Ltd.'s investment team is in discussions to raise a new dollar-denominated fund of at least $650 million, according to people familiar with the matter.
China's largest gaming and social media giant has begun negotiations with limited partners and family offices on a new round of funding surpassing the $600 million raised last year, the people said, requesting not to be named because the matter is private. The money is earmarked for existing startups in its portfolio, although it hasn't decided on a final amount as it's still gauging investor appetite, the people added.
Tencent, whose internal venture arm is co-led by Forest Lin and Jeffrey Li, is one of China's most prolific investors, seeding at least 600 companies. By casting a wide net, the WeChat operator bolstered its credentials and kept pace with similarly aggressive Alibaba Group Holding Ltd. Tencent's VC arm is an integral cog in an enormous investment machine that's helped create industry leaders including ride-hailing giant Didi Chuxing and on-demand services player Meituan Dianping. The company has also backed e-commerce upstart Pinduoduo Inc., Tesla Inc. as well as Snap Inc.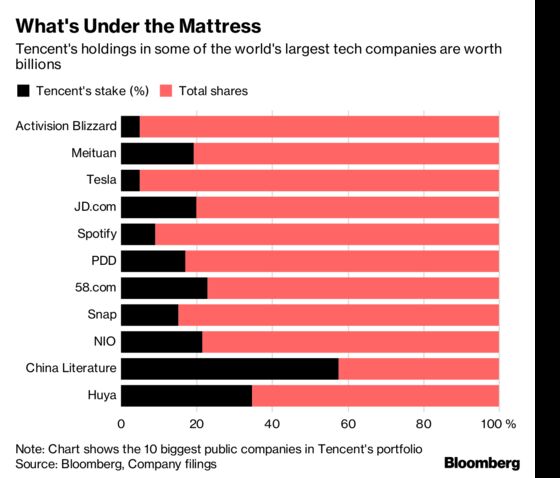 Tencent spokeswoman Jane Yip didn't respond to a request for comment.
Tencent's share price has been hammered this year amid a crackdown on the domestic gaming sector and a trade war with the U.S. After shedding more than $200 billion in market value this year -- more than any other company worldwide -- the company is no longer among the world's 10 biggest public corporations.
Tencent for years made investments in startups from its own cash reserves. More recently however, it has raised funds from limited partners, much like venture capital firms do. Separately, the company puts money into venture funds just like any limited partner.
The current fundraising effort may possibly coincide with the tail end of one of the biggest tech investment booms in recent memory. Venture deals in China swelled from $4.4 billion in 2013 to $16.6 billion in 2014, reaching $62.6 billion by 2017, according to market research firm Preqin. This year, China is on track to surpass the U.S. in both venture capital raised and IPOs.
China's tech sector is now bracing for a tougher year ahead. Startups and venture capitalists alike are hunkering down, raising as much money as possible to fill their warchests and tide them over during an uncertain 2019, as trade tensions between the world's two largest economies mount and the Chinese economy slows.