40 States Get More in Federal Payments Than Taxes Paid, Rockefeller Institute Says
(Bloomberg) -- A recent analysis by the Rockefeller Institute found that forty states are "getters" while ten are "givers".
Forty states received more funds from the federal government than the tax revenues they send, resulting in a positive balance of payments. In the remaining ten states, tax burdens were not offset.
In aggregate, the top ten "getter" states obtain almost 15 percent of federal expenditures but only send about 9.5 percent of the total tax revenue received by Washington.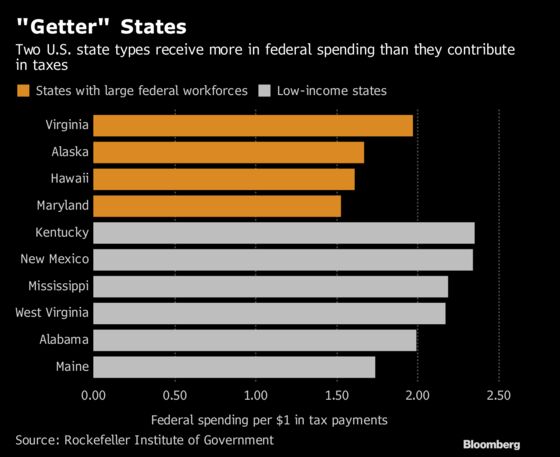 The "getter" states can be subdivided into two groups: high-income states with a large presence of federal workforce -- meaning a lot of wage spending flows to them due to a large federal workforce -- as is the case in Virginia, Alaska, Hawaii and Maryland. The other group is made of states with low tax burdens due to lower relative incomes, higher poverty levels, and older populations which means higher levels of payments to individuals through social programs such as Social Security, government and military retirement pensions, Medicare and Medicaid, Supplemental Nutrition Assistance Program (SNAP), and housing assistance.
"The result is that the taxes paid by high-income states in the Northeast offset the lower tax contributions and higher spending in lower-income states in the Southeast," according to the Rockefeller analysis.