Tehran Returns Serve in Nuclear Accord Spat With Trump
President Hassan Rouhani says Iran is not falling for a trap. But at the least he risks walking into a bear pit.
U.S. President Donald Trump has maintained the pressure ever since he withdrew from the 2015 Iran nuclear accord. Now Tehran is pushing back, saying it will no longer comply with elements of the deal and giving other signatories 60 days to fulfill their commitments, mostly to help it sell oil and trade with the world. If they don't, the Islamic Republic will increase uranium enrichment and start work on a mothballed heavy-water reactor.
The U.S. is sailing an aircraft carrier to the region. In provoking Iran, Washington may be seeking an opportunity to further tighten the net around Rouhani. He is already grappling with a sputtering sanctions-hit economy, struggling to maintain oil revenue and under pressure from hardliners at home to take a stronger stance.
Rouhani's actions may also push Europe into a corner. Signatories Germany, France and the U.K. have stood by the nuclear deal, fearing the repercussions of a total collapse. But will they continue to protect an accord that's hanging by a thread?
U.S. Secretary of State Michael Pompeo is in London today after a lightning trip last night to Iraq to drum up support against Iran (having ditched a dinner commitment with German chancellor Angela Merkel). He's likely to urge the U.K. to take a tougher line on Iran. How the British react is key to whether — or how fast — Rouhani's fight fizzles out.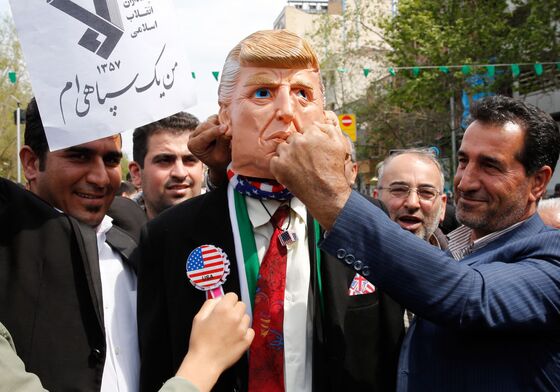 Second-term strategy | Trump's advisers are pushing him to defy congressional investigations and lure Democrats into escalating a fight they say will turn voters against the party in the 2020 elections. As Shannon Pettypiece reports, they're counting on news coverage of the battle — including Democrats raising the possibility of impeachment — distracting attention from candidates vying to take on Trump.
The House Judiciary Committee plans to vote today on holding Attorney General William Barr in contempt for failing to provide lawmakers with a fully unredacted version of Special Counsel Robert Mueller's report.
Trade gamble | The China hawks in Trump's orbit have the upper hand after the president turned the screws on Beijing for allegedly reneging on a key promise in high-stakes trade talks. Still, a former adviser to China's central bank predicted the country would seal a trade deal with "rationally crazy" Trump as soon as Friday. Click here for more on how Trump's gamble has set the stage for tense negotiations.
Not too taxing | Trump complains that Amazon and other large corporations are shirking their tax responsibilities. Yet for at least a decade, he paid none or very little in federal income taxes by exploiting the same generous tax breaks as the online retail giant. As the president fights Democrats' efforts to probe his finances, the New York Times reported that Trump's businesses racked up $1.17 billion in losses between 1985 and 1994 — and he paid taxes in only two of those years.
Populism fallout | The politics of Latin America's two biggest countries have swung sharply to the right or left, but their economies are going nowhere. As Eric Martin and Walter Brandimarte report, voters turned to anti-establishment leaders in Brazil and Mexico amid promises of a fresh approach to reviving growth. Those hopes are quickly fading though as economists slash forecasts for both.
Pro-junta rule | The Pheu Thai party linked to exiled former premier Thaksin Shinawatra may have won the most seats in Thailand's disputed March election, but experts say a pro-military alliance is most likely to form government. The question is how stable that coalition will be and whether it can drive policy making in an economy where growth is slowing. Results for the remaining 150 party-list seats are set be released today.
Huawei Technologies Chief Financial Officer Meng Wanzhou returns to court in British Columbia today as her lawyers seek to discredit a U.S. extradition request to face charges for allegedly skirting Iran sanctions. They argue Canada improperly arrested her in December at Vancouver's airport.
South African President Cyril Ramaphosa needs a decisive win for his fractious African National Congress in elections today to quell opposition in his own party to much-needed reforms. Click here for a story on the challenges for Africa's most-industrialized economy, and here to read why the margin for Ramaphosa matters.
U.K. Prime Minister Theresa May faces lawmakers in Parliament today after another round of inconclusive talks with the opposition Labour Party dented her hopes of reaching a deal to leave the European Union.
And finally... Bringing in $42 billion a year to the Australian economy, coal has become a hot election topic as the major parties dance between supporting a key industry and managing growing public concern over man-made climate change. In the first in a three-part series (you can read the other stories tomorrow and Friday) on why coal is so hard for governments to ditch, Jason Scott reports from a key battleground for the country's mining future.