Tech Haunts Hong Kong's Stocks as Earnings Start to Fall Short
(Bloomberg) -- Earnings jitters hit shares in Hong Kong after several Chinese tech companies reported worse-than-expected results.
The Hang Seng Index slid 2.4 percent, extending its weekly decline to 3.3 percent, the worst in five weeks. All but one stock on the 50-member gauge dropped, with technology shares tracking overnight losses for Chinese stocks listed in the U.S. Tencent Holdings Ltd. slid 4.9 percent ahead of next week's quarterly report, while AAC Technologies Holdings Inc. had its worst week since 2010 as brokers downgraded the stock after disappointing results. Sunny Optical Technology Group Co. fell 1.3 percent.
Stocks in Hong Kong resumed their declines after a short squeeze caught bears off guard last week. A rout in technology stocks has punished the Hang Seng Index this year, tipping it into a bear market in September. The gauge has just come off its longest streak of monthly losses in 36 years. Analysts have trimmed their earnings expectations for this year, predicting a contraction for members of the gauge on average.
"Concerns about an earnings slowdown are rising in China markets after AAC Technologies missed estimates," said Castor Pang, head of research at Core Pacific-Yamaichi in Hong Kong. "There have been a few downgrades on the smartphone makers and earnings worries are spilling over to Tencent. It's hurting sentiment for the whole market."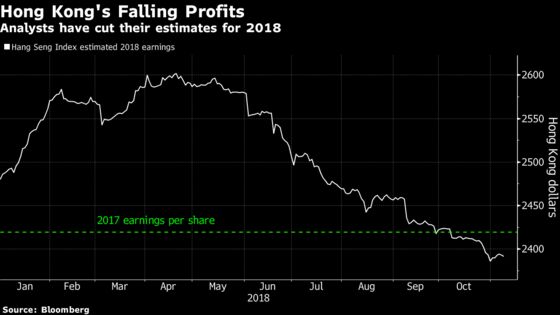 AAC dropped 1.6 percent, ending the week with 18 percent tumble as its third-quarter results prompted analyst downgrades. Tencent fell the most in nearly a month on Friday, while Sunny Optical lost 10 percent for the week.
Mainland investors dumped HK$1.9 billion of Hong Kong stocks on Friday, the biggest selling in nearly two weeks, according to Bloomberg data based on daily trading turnover. On a weekly basis, mainland investors have been net sellers of the city's shares for two weeks in a row.
Shares also slipped in mainland China, where the Shanghai Composite Index retreated 1.4 percent and the Shenzhen Composite Index fell 0.4 percent. Financial companies led declines on the CSI 300 Index after the banking regulator set lending targets for private companies.
Among other stocks moving on Friday:
Dongfeng Motor and Guangzhou Automobile fell at least 3 percent after car sales in China declined for a fifth consecutive month
Macau casinos extended declines after Melco Resorts' results missed the lowest analyst estimates and U.S.-listed Wynn Resorts tumbled overnight; Galaxy -3.1%, Sands China -2.8%
Energy companies fell as oil traded near record losing streak after entering a bear market; Cnooc -4.4%, PetroChina -2.3% in Hong Kong
Banks dragged the Hang Seng Index lower, with Industrial & Commercial Bank of China falling 2.7% and China Construction Bank losing 2.4%; China Merchants Bank and Bank of Shanghai fell at least 4.7% onshore to lead declines on the CSI 300 financials subgauge