Tax Collections in India Raise Doubts on Lower Borrowing Plan
(Bloomberg) -- Nothing seems to be helping India's sovereign bond market. The optimism spurred by the government's decision to cut its borrowing plan proved fleeting as tax collections failed to meet the target for a fifth straight month.
Revenue from the goods and services tax, or GST, totaled 944.4 billion rupees ($12.9 billion) in September, falling short of the 1-trillion rupee monthly target. The gap, traders say, may undermine the government's plan to cut its borrowing for the year by 700 billion rupees.
"We are concerned about how the government will meet this kind of cut in borrowing," said Sudhir Agarwal, a fund manager at UTI Asset Management Co. "We are seeing some hiccups in the GST numbers. We will be on wait-and-watch, keeping an eye on government revenues and the resulting fiscal scenario."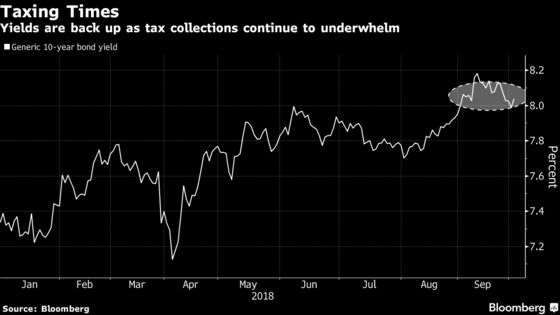 On a cash accounting basis, the collections are likely at around 900 billion rupees per month during April-September, implying a higher required monthly run-rate of 1.19 billion rupees for the October-March period, according to Kotak Mahindra Bank.
"We believe that without expenditure cuts, it will be difficult to stick to the budgeted target," economists Suvodeep Rakshit and Upasna Bhardwaj wrote in a note, forecasting a wider fiscal deficit of 3.5 percent against the government's target of 3.3 percent. That won't be easy going into state-elections later this year and general elections in 2019.
Sovereign debt in India have been battered by a tumbling currency and rising prices of oil, the nation's top import, with the yield on 10-year bond reaching a four-year high of 8.23 percent last month. The RBI's announcement of $5 billion of bond purchases in October and the government's truncated borrowing plan provided some respite on Monday.