Tata Consultancy Misses Estimates on Rupee, Employee Costs
(Bloomberg) -- Tata Consultancy Services Ltd. narrowly missed analyst estimates as quarterly profit was hit by a volatile currency and unexpected rise in employee costs.
Asia's largest software outsourcing provider reported a 24 percent increase in net income to 81.1 billion rupees ($1.2 billion) in the three months ended December, compared with the 81.9 billion-rupee average of estimates. Sales came to 373.4 billion rupees. Despite headwinds from a volatile Indian currency and higher costs in some major markets, operating margins were "resilient," Chief Financial Officer V. Ramakrishnan said in a statement.
TCS managed to lift earnings growth above 20 percent in the previous two quarters as well despite a challenging business environment. Like closest rival Infosys Ltd., it's wrestling with clients' changing technology needs and a shift toward automation. Other headwinds include curbs on the H-1B visas used to get Indian software workers into the key U.S. market, the increased cost of localization, employee training expenses and Britain's exit from the European Union.
"After two consecutive strong quarters, margins appear softer because of currency fluctuations and higher-than-expected headcount," said Sudheer Guntupalli, a Mumbai-based technology analyst at Ambit Capital Pvt. "Headcount additions are towards servicing future demand so all-in-all, it's encouraging."
TCS is the first of India's IT services giants to report quarterly earnings. Closest rival Infosys follows on Friday and Wipro Ltd. next week. TCS Chief Executive Officer Rajesh Gopinathan has argued that IT outsourcers should think creatively to evolve from the low-cost infrastructure maintenance and technology support services of the past.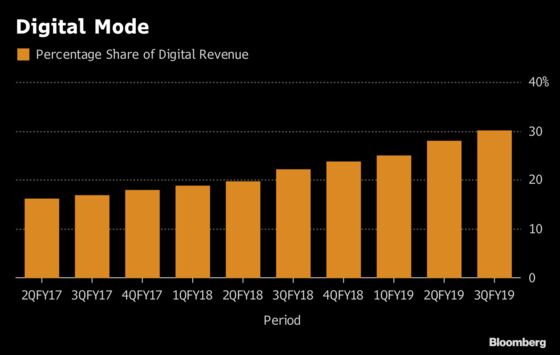 The company said Thursday that digital services formed 30.1 percent of total revenue for the quarter, compared with 22.1 percent a year ago.
"As large segments of the economy go through churn driven by digital disruption, enterprises are responding with technology-powered strategies -- as in algorithmic retailing or connected cars -- creating a huge opportunity for services providers like us," Chief Executive Officer Rajesh Gopinathan said in a statement. Constant currency revenue growth of 12.1 percent in the December quarter was the highest in 14 quarters, Gopinathan said.
Last year, the company became the first Indian corporation to surpass $100 billion in valuation in over a decade, and Gopinathan vowed to get back to double-digit growth.
Shares of Tata Consultancy were little changed at the close of trading in Mumbai on Thursday before the earnings were announced, compared with a 0.3 percent fall in the benchmark S&P BSE Sensex.