Tape Bombs, Scandals, and Crushing Tailspins: Taking Stock
(Bloomberg) -- Trying to find a silver lining to Monday's brutal session is a real challenge.
The day was full of tape bombs, like Lumentum's revelations about reduced customer shipments sending shockwaves across the Apple universe and drastically shifting some investors' expectations from an extended recovery to a prolonged downturn for tech stocks. Apple is now hovering precariously above its 200-day moving average and trending much closer to a market cap of $900 billion instead of charging back to the milestone $1 trillion mark.
Or how about our scoop that the U.S. may slap tariffs on auto imports, which took the trade proxies like General Motors, Caterpillar, and Boeing to fresh lows.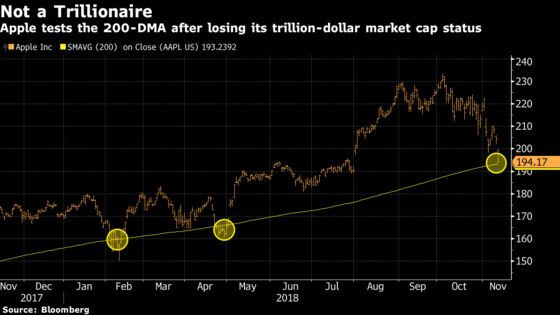 There were also several soul-crushing tailspins, like General Electric closing below $8 for the first time since March 2009 amid a flurry of large institutional trades that suggest heavy selling from holders, similar to the massive blocks at the end of last week (see yesterday's Taking Stock for more: "A 37 Million Share Print Took Wall Street by Storm"). GE has now dropped 13 of the last 14 sessions, an absurd ratio even for this stock that's been in a relative freefall for a couple years now.
Goldman Sachs actually fared worse than GE on the day, if you can believe that, sinking to two-year lows on fallout from the 1MDB scandal. Or how about the two utilities in California, PG&E and Edison, that have collectively erased more than $13 billion in market value in the past week (plunging 31% and 23% just in the past two days, respectively) over liability concerns related to all of these wildfires, with three of the worst fires in the state's history having hit in the last 13 months.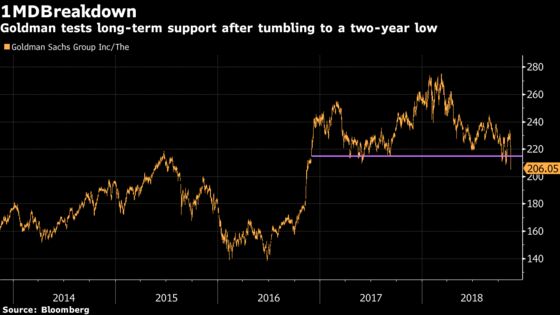 Some people tried to brush off the ugly action by arguing that liquidity was light and volumes were abnormally low, but things must have picked up into the close because we actually went out with a respectable showing.
In fact, volumes on the consolidated tape were higher than two sessions last week and were actually among the highest for any Monday this year, which is even more impressive considering that it came on a day where some trading floors were half-full due to the Veterans Day holiday.
More Tape Bombs Today
Therein lies the rub. For every piece of bad news, there has to be at least some bit of good news -- even the M&A highlight reel led by Europe's largest software firm SAP taking out Qualtrics for $8 billion turned into a mini-tailspin for the suitor (SAP sank to a one-and-a-half year low) thanks to the hefty Quattrone-negotiated premium.
For every problem child (GE, Apple, Goldman, or as Joe Pesci once said, "the two utes"), there needs to be a beacon of hope. I think you can safely say there was no such thing on Monday, with all sectors in the S&P 500 falling besides the REITs and only 88 members of the index closing in the green, with just a handful gaining more than 2% on the day.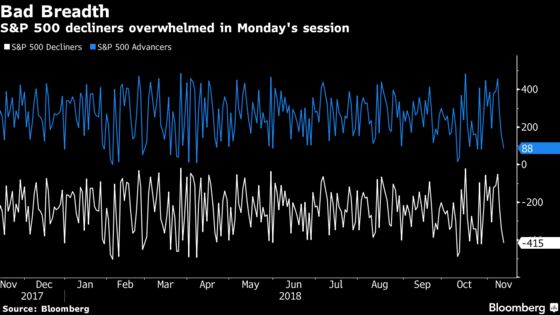 Today is a different day, and we'll see if the bounce in the futures (Spoos up ~17 handles) can hold thanks to a resumption of U.S.-China trade talks and a beastly beat from Home Depot (shares up ~1.8% pre-market) -- but the latter could be offset by another consumer bellwether, after Walmart said the CEO of Indian e-commerce leader Flipkart (which they recently bought for $16 billion) has resigned in scandalous fashion.
I'd also warn that this market is currently very susceptible to tape bombs in tech land, especially considering the "Long FAANG+BAT" trade remains atop the list of most crowded trades for the tenth straight month (according to BofAML's just-released fund manager survey for November). The big whiff from Taiwan's Hon Hai (AKA Foxconn), the main assembler of the iPhones, might carry all of the Lumentum nerves over into today's session and weigh on the sector once again.
Apple suppliers are bouncing, but it's possible the optimism may fade after a miss from Hon Hai (AKA Foxconn)
Hardline retailers after Home Depot's beat
Homebuilders after a top line beat from Beazer Homes (shares are currently surging more than 15%)
Auto retailers on what appears to be strong numbers across the board for Advance Auto Parts
Pot stocks will probably trade the way Cronos goes after its earnings report; so far the stock is modestly lower (down ~2.4%), which is peanuts for this volatile group
Recent Chinese tech/streaming IPOs like iQIYI and Bilibili may get bid up after positive earnings reactions for both HUYA and YY
Permian Basin E&Ps on our scoop that Chevron and Exxon Mobil are mulling bids for Endeavor Energy Resources in a deal that may be valued at ~$15 billion including debt
Sectors that may move with earnings over the next ~24 hours include protein (Tyson Foods), pot stocks (Tilray, Canopy Growth), Chinese large-cap tech (Tencent), industrial gas (Linde)
Notes From the Sell Side
Gordon Haskett's John Inch, the GE bear who last week caused a ruckus with a call for shares to potentially sink to $5, now says this: "Despite analyst assertions that liquidity does not pose a risk to GE, coupled with GE's own assurances and the company recently eliminating almost all of its dividend expenses, we believe liquidity issues instead could be escalating."
Goldman cut its price target on Apple to $209 (well below the average target of $234) and slashed iPhone units estimate after Lumentum's negative preannouncement: "We infer from LITE's pre-announcement that the likely customer was Apple from the magnitude of revenue cut and given Android customer revenues for LITE were only around $10m in the Sep'18 qtr."
Susquehanna upgrades Nvidia to a positive rating ahead of earnings this Thursday, arguing that while the odds of a guidance are high, implied valuation discounts an excessively severe downside scenario. "While the RTX cycle appears ho-hum, we are compelled by new 7nm GPUs next fall, a pro-viz cycle, and the growing A.I. inference opportunity," analyst Christopher Rolland adds; he also upgraded semi peer Xilinx to a positive on the A.I. inferencing thesis, a market he sees growing to $6.5 billion by 2025.
BofAML downgrades Best Buy to neutral, as "one of the best beat & raise stories may be hitting pause," citing slowing industry growth, tough compares in key products, and cost inflation.
Tick-by-Tick Guide to Today's Actionable Events
Today -- IPO lockup expiry: PS
7:00am -- CRON earnings
7:30am -- TSN earnings
8:00am -- K, TRP investor days
8:00am -- AAP earnings call
8:00am -- IIVI at Needham Networking & Security Conference
8:30am -- CRON earnings call
8:55am -- SQ at Citi Financial Tech Conference
9:00am -- HD earnings call
9:10am -- BKNG at RBC Tech, Internet, Media and Telecom Conference
9:20am -- PM at Morgan Stanley Consumer Conference
10:00am -- Fed's Kashkari speaks at conference on immigration
10:00am -- Fed's Brainard speaks on AI and the new financial landscape
10:00am -- HUM at Credit Suisse Healthcare Conference
10:00am -- BZH earnings call
10:35am -- JNJ at Credit Suisse Healthcare Conference
10:40am -- KORS at Morgan Stanley Consumer Conference
10:40am -- CRON CEO Michael Gorenstein on Bloomberg TV
10:55am -- TRIP at RBC Tech, Internet, Media and Telecom Conference
11:00am -- LRCX at UBS Global Tech Conference
11:00am -- ZG at RBC Tech, Internet, Media and Telecom Conference
11:30am -- SFLY analyst meeting
11:30am -- ROKU at RBC Tech, Internet, Media and Telecom Conference
11:35am -- Waymo CEO John Krafcik at WSJ Tech event
11:45am -- MSFT, ACIA at UBS Global Tech Conference
12:00pm -- OSTK investor day
12:00pm -- PYPL at RBC Tech, Internet, Media and Telecom Conference
12:10pm -- NXPI CEO Richard Clemmer at WSJ Tech event
12:30pm -- MOS at Morgan Stanley Global Chemicals Conference
12:35pm -- FEYE CEO Kevin Mandia at WSJ Tech event
1:00pm -- VOYA investor day
1:30pm -- BHGE at JPMorgan Energy Tech Tour
2:00pm -- Monthly Budget Statement
2:00pm -- SCOR investor day
2:20pm -- Fed's Harker speaks at fintech conference
2:20pm -- KO at Morgan Stanley Consumer Conference
2:30pm -- SFIX at RBC Tech, Internet, Media and Telecom Conference
3:45pm -- BL analyst day
4:00pm -- SVMK, WIX earnings (roughly)
4:00pm -- SLB at JPMorgan Energy Tech Tour
4:05pm -- TLRY, CDLX, MTSI (roughly), SSTI earnings
4:10pm -- SWCH earnings (roughly)
4:30pm -- TLRY earnings call
5:00pm -- ZEN investor meeting
5:00pm -- SVMK earnings call
5:15pm -- IBM at UBS Global Tech Conference
6:00pm -- BBT investor day (day one of two)
8:10pm -- Uber CEO Dara Khosrowshahi at WSJ Tech event
9:00pm -- China Industrial Production and Retail Sales
10:15pm -- Instagram co-founder Kevin Systrom at WSJ Tech event
Tonight -- IPO expected to price: Vapotherm (VAPO)