Take a Hard Look at the Fed's New Dot Plot, and Then Forget It
(Bloomberg) -- When Federal Reserve officials release a new set of interest-rate projections on Wednesday, central bank watchers should be wary.
They will show what policy makers are currently thinking and any change is important, with economists expecting them to dial back future hikes. But with the Fed leaning increasingly on incoming economic data as it feels its way forward, the predictive power of the dot plot -- as the projections for the benchmark federal-funds rate are known -- may be especially weak.
More data dependence means "the dots become less relevant," Michelle Meyer, head of U.S. economics at Bank of America Corp., said on a Dec. 6 call with reporters. "It's going to be very hard to price in with any conviction more than one to two meetings out," she said.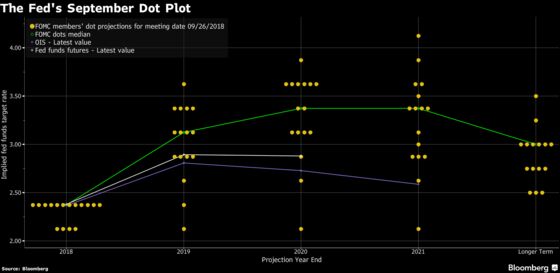 Uncertainty is growing because the Fed is nearing an inflection point for rates. Most Fed officials would like to stop hiking at or slightly above the long-run neutral level -- the rate at which policy is, theoretically, neither fueling nor restraining the economy. But there's no way to measure where neutral is in real time, and estimates among policy makers range from 2.5 percent to 3.5 percent.
"It's easy when you're at zero," said Yale University professor William English, who stepped down as a special adviser to the Fed board last year. "They no longer have a clear sense of the trajectory" of rates.
Jerome Powell has spent his first year as Fed chairman emphasizing how imprecise estimates of neutral are. In remarks on Nov. 14, he compared policy making at the moment to "walking through a room full of furniture and the lights go off."
Thus, the "data dependent" message that Fed officials have been hammering ever harder in recent weeks.
Political and policy uncertainty isn't helping, with the ongoing trade dispute between the U.S. and China providing a key variable. A resolution to the confrontation or a serious escalation in tensions could come quickly, significantly changing the outlook.
Then there's the additional press conferences that Powell has scheduled for 2019. Instead of the usual four, coinciding with the same meetings at which the Fed releases forecasts and rate projections, Powell will make a statement and field media questions after each of the other four meetings as well. Those extra sessions will effectively overtake any lingering signal from the preceding set of dots, which at that point would be about six weeks old.
"Obviously the chair's views are more important that whatever you can glean from the dots," said Tom Simons, senior economist at Jefferies LLC in New York.