Taiwan Sees Evidence of Trade-War Benefit 
(Bloomberg) -- Further signs that Taiwan is benefiting from the U.S.-China trade war emerged, as officials attributed a jump in industrial production partly to technology companies shifting production back to the island economy.
Industrial output jumped 8.25 percent in October to its highest level since records began in 1996. The highest economist estimate was for a 4.8 percent gain.
The manufacturing sector was the main contributor to the gain, increasing 9.24 percent.
Economic ministry officials attributed the increase to server makers shifting production lines back to Taiwan from China. They also pointed to bigger-than-expected orders for networking equipment from the U.S.
The ministry forecast industrial production to rise at least 3 percent in November.
Quanta is Moving Output of Premium Products Back to Taiwan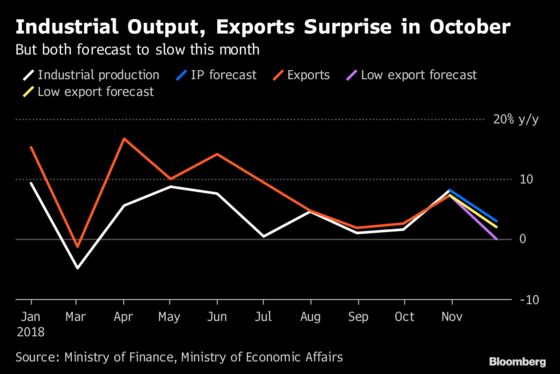 There's also a potential negative impact from the trade war, though data are yet to indicate the standoff between Taiwan's two biggest trading partners is hurting sales abroad. Export orders rose 5.1 percent in October.
Companies have been flashing warning signals however. Foxconn, the biggest assembler of iPhones, said earlier this week it plans to cut expenses by $2.9 billion next year due to waning smartphone demand.