Taiwan Bank Lending to Chinese Firms Declines Amid Uncertainty
(Bloomberg) -- Taiwanese banks' contributions to offshore loans for mainland Chinese firms fell to their lowest levels in at least 10 years as lenders turn increasingly anxious to limit their credit exposure to the economic fallout of the pandemic and rising political tensions.
The share of Taiwanese financial institutions in China's offshore syndicated and club loans tumbled to the lowest since at least the first three quarters of 2010 to $362 million-equivalent for 2020 year-to-date, according to data compiled by Bloomberg based on deals with disclosed lender commitments. This is a 74% drop compared to the first three quarters of last year, continuing a downward trend that began in 2018.
The total volume of Chinese offshore syndicated and club loans with at least one Taiwanese lender involved has also tumbled to $4.9 billion for this year so far, falling 65% compared to $14.1 billion the first three quarters of 2019, Bloomberg-compiled data show.
The drop in lending by Taiwanese banks is driven by concerns over the pandemic's economic impact on China, as well as lenders generally, not just those in Taiwan, turning increasingly cautious over the uncertain geopolitical backdrop, said Vicky He, Credit Suisse's head of loan syndication for North Asia.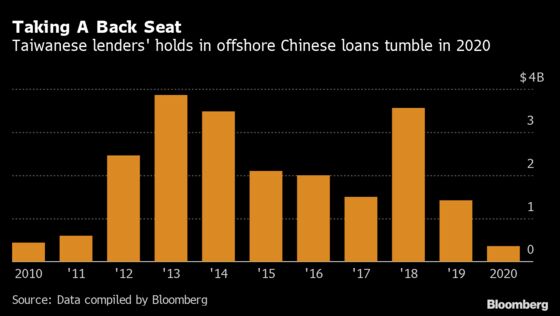 As of June, 36 Taiwanese banks were exposed to the tune of NT$1.6 billion ($55 billion) to China, including credit lines, investments and cash deposits. On average, that was 37.5% of their 2019 net worth, according to Taiwan's Financial Supervisory Commission, down from 47% in the same period in 2018.
Credit Suisse's He said banks now focus on existing relationships where they can see the borrowers' track record, as well as reputable, tier-one private equity sponsor-driven transactions.