Tackling the World's Worst Traffic Could Get This Leader Re-Elected
(Bloomberg) -- Below Jakarta's traffic-choked streets, workers are rushing to put the finishing touches on the city's first underground rail line in time to give Indonesian President Joko Widodo an election boost.
The new Mass Rapid Transit system -- decades in the making -- is emblematic of Widodo's efforts to reverse decades of neglect in Indonesia's infrastructure that has strangled growth in Southeast Asia's biggest economy and left it behind many regional neighbors. Built with Japanese soft loans and expertise, the network would offer some relief from traffic that is close to gridlock and getting worse, a situation that costs the city billions of dollars a year in lost productivity.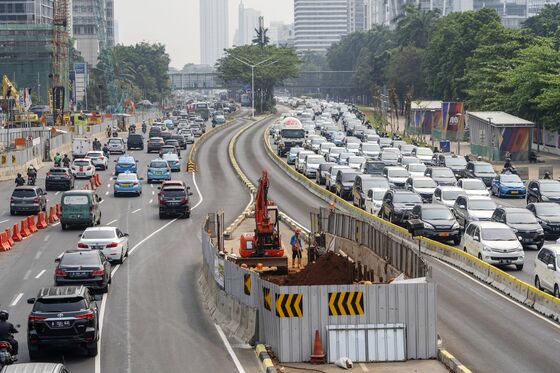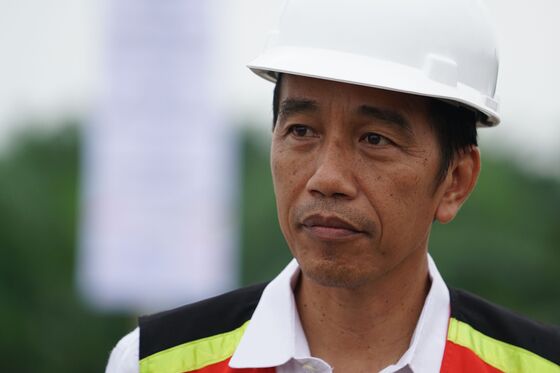 "He is known as the infrastructure man," Jakarta MRT chief William Sabandar said in an interview. "When I was first appointed to this job two years ago, that was the task: to accelerate the project, solve all the problems and complete it by March 2019."
The quality of Indonesia's infrastructure is among the lowest in the region, according to the World Bank. Widodo, has been trying to fix that, spending a record amount of the state budget on infrastructure, with plans to lift the allocation next year to 420.5 trillion rupiah ($28.2 billion).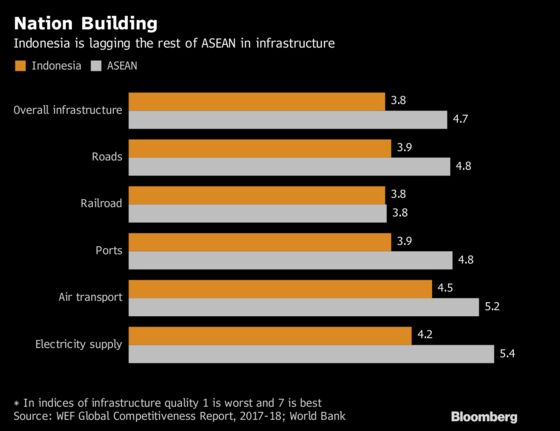 Scoring a hit in public transport could be vital in Jokowi's re-election campaign. With annual economic growth stuck at about 5 percent, well below the 7 percent the president promised, and a currency that's lost almost 9 percent against the dollar this year, his political opponents have been quick to accuse him of economic mismanagement.
Plans for a mass-transit rail network in the capital have been mooted since at least the 1980s, but financial crises, problems with land acquisition, political turmoil and technical hurdles kept the project on the drawing board until Jokowi, then Jakarta governor, gave the go-ahead and launched it at a ground-breaking ceremony in 2013.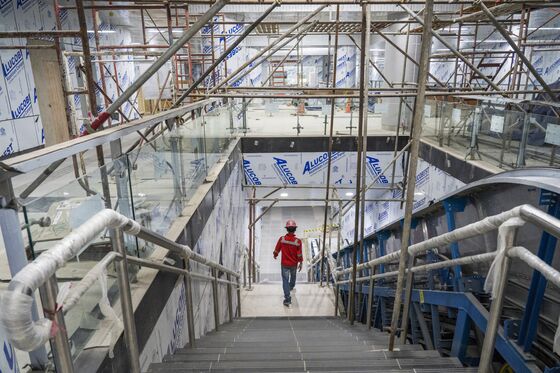 "Jokowi comes in as governor and it was like 'boom,'" said Edward Gustely, co-founder of Jakarta-based Penida Capital Advisors, who helped produce a financial feasibility study for the MRT back in 1995. "The progress that has been made these last seven years since Jokowi was governor and then president is nothing short of truly astounding."
Previous administrations tried various unsuccessful ways to reduce congestion, such as a ride-sharing system that led to the rise of so-called jockeys -- school kids and nursing mothers who would offer their services as passengers for hire so drivers could skirt car-pooling rules.
Meanwhile the traffic got worse.
With an urban area that is home to 30 million people, Jakarta generates almost a fifth of Indonesia's annual gross domestic product, but the growth of traffic has outpaced the building of new roads and the city was predicted to face gridlock by 2020 if nothing was done.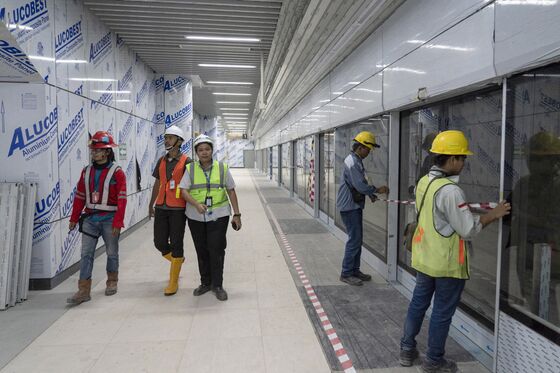 Jakarta scored worst among global cities in Castrol's Stop-Start traffic index, third after Dhaka and Kolkata in Numbeo's 2018 mid-year traffic index and third after Mexico City and Bangkok in the Tomtom Traffic Index, giving it the highest overall score worldwide.
Jakarta is the second-largest urban area in the world behind Tokyo "and we don't have a public transport system that works," said Gustely.
When commercial operations begin in March, the $1.2 billion first-phase of the MRT will connect the city's southern suburbs to Central Jakarta over 16 kilometers of track, much of it underground. The line is expected to move 170,000 passengers a day, with the price of a ticket heavily subsidized and likely to be around 8,500 (57 U.S. cents) per 10 kilometers.
The Japan International Cooperation Agency has provided more than $2 billion in soft loans for the first two phases of the MRT project. The third phase -- estimated to be worth more than $4 billion -- will be opened up to more investors, and Sabandar said it's attracting interest from the U.S., China and Europe.
The goal is to have a 112-kilometer MRT system with more than 60 stations by 2025, with a total cost of well over $7 billion. That's nothing compared the cost of not doing it, Sabandar said. "We calculate it's $5 billion per year just for the traffic congestion in Jakarta," he said. "If you don't solve it, you have $5 billion, $5 billion, $5 billion every year."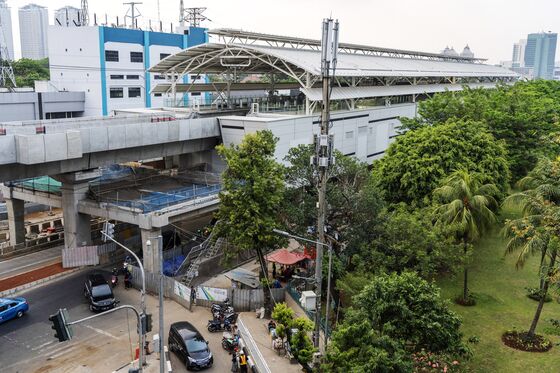 The political and technical challenges have been enormous. Resistance from landowners to sell their land at the government price caused months of legal delays. And the underground and raised sections of the railway had to be designed to withstand floods and major earthquakes in a country that's prone to natural disasters, as the devastation in Sulawesi recently showed. Jakarta is 40 percent below sea level and sinking at up to 20 centimeters a year.
"It's really a huge problem," said Professor Christophe Girot from the Swiss Federal Institute of Technology, who is working with Future Cities Laboratory in Singapore in studying Jakarta's sinking. "It's going to be almost eight years since we started research, so we've gone down a meter-and-a-half already. It's completely crazy."
Girot said Jakarta will have to do more to tackle its snarled traffic. "Just building one underground won't really solve it," he said.
The president is banking on the MRT and dozens of other road, rail and ports projects worth hundreds of billions of dollars to help him defeat former general Prabowo Subianto in the April election. Prabowo was also Jokowi's opponent in the 2014 race.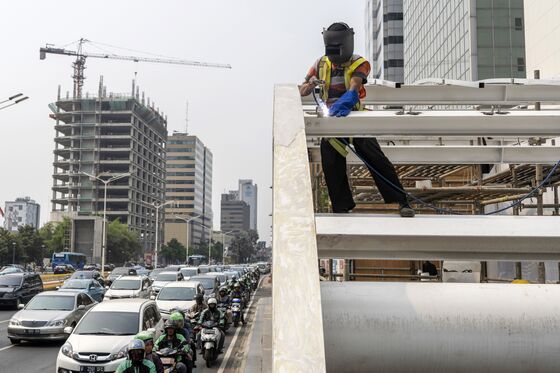 Whoever wins, they will need to continue financing infrastructure spending to maintain business confidence in the country and prevent an economic slowdown, Gustely said.
"At some point the system would break down," Gustely said. And investors will say "'We're out of here. If this doesn't get fixed, we're shutting down.'"