Switzerland Urged by Economists to Go for Second Virus Lockdown
(Bloomberg) -- Switzerland should respond to surging coronavirus infections with a second national lockdown, a group of economists has recommended.
Writers included Philippe Bacchetta of the University of Lausanne and Richard Baldwin, professor at Geneva's Graduate Institute, said in an open letter to the government that there appears to be "a pervasive misunderstanding" of the economics of the crisis.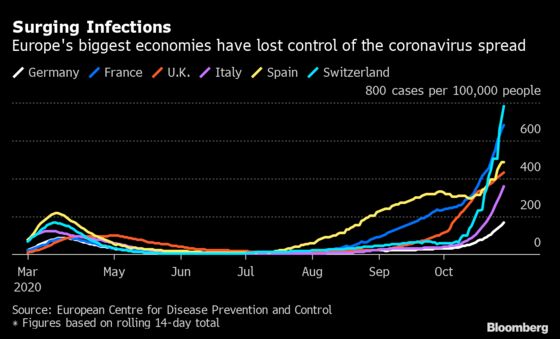 The government is currently using targeted social-distancing measures that are intended to rein in the disease without forcing businesses to close. Neighboring nations in Europe are increasing imposing partial lockdowns.
The economists said that while closures would hamper economic activity, "the high health risks and ensuing fear and panic will prevent people and businesses from pursuing economic activities anyway."
Switzerland responded to the initial Covid-19 wave by shuttering shops, theaters and restaurants, and used interest-free loans and job furloughs to keep the economy afloat amid worst slump since the 1970s.
Policy makers have since warned that the nation can't suffer another 30% hit to activity. Swiss National Bank President Thomas Jordan said in a May newspaper interview that even a wealthy country like Switzerland won't be able to digest such a blow that easily, and Finance Minister Ueli Maurer argued his country doesn't have another 30 billion francs ($33 billion) to spend.
An association representing Swiss businesses has backed the government's stance. In their letter, the economists took issue with that stance.
"Given the current debt level and borrowing terms of the federal government, such fiscal measures in this once-a-century pandemic seem appropriate and sustainable," they wrote.
Read More...
SNB's Jordan Says Economy Must Be Able to Handle Pandemics: SZ