Switzerland's Economy Kicks Off 2019 on a Pessimistic Note
(Bloomberg) -- Signs of a growth slowdown in Switzerland are mounting, as global trade tensions and the slack evident in other major economies left their mark on the export-oriented country.
Two leading indicators plummeted in January, with a Credit Suisse gauge determining the share of analysts expecting the outlook for Switzerland, the euro area, China, and the U.S. to worsen had increased.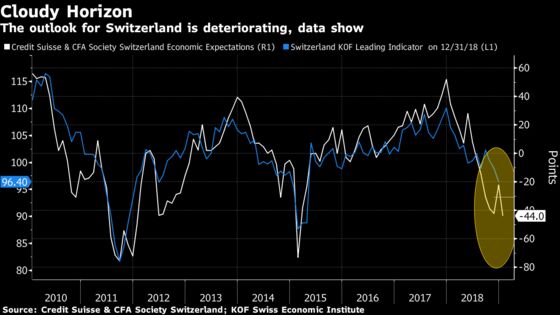 U.S.-China trade tensions are causing a loss of momentum around the world, which is affecting Switzerland too. Spinning machine-maker Rieter Holding AG said on Wednesday that a drop orders was expected to hit business in 2019.
"Chinese customers and the Chinese textile industry is holding back investments based on the trade war," Rieter's Chief Executive Officer Norbert Klapper said.
Additionally, political strife in weighing on Europe and the International Monetary Fund predicts the global economy will grow at the weakest pace in three years in 2019.
Switzerland's growth is set to slow to about 1.5 percent this year, according to the central bank, albeit following a particularly strong 2018.