Swiss, Swedish Economies Shrink as Trade Slump Hits Europe
(Bloomberg) -- Questions about the strength of Europe's economy mounted further on Thursday after the Swiss and Swedish economies unexpectedly contracted and confidence in the euro area weakened for an 11th straight month.
Economists had expected Switzerland and Sweden to expand in the third quarter, but output fell 0.2 percent in both. Each was hit by a slowdown in domestic demand, and Switzerland in particular suffered from a drop in exports. In the euro area, the latest decline in sentiment was led by weaker consumer confidence.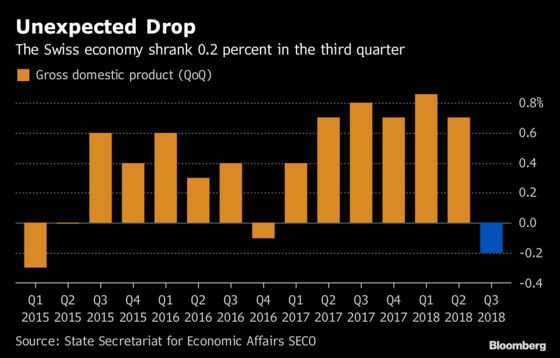 The question is whether the downturn is temporary or will prove more prolonged and serious. Forecasts for world expansion are being downgraded and trade tensions may weigh on export-heavy economies such as Switzerland. 
For the Swiss, part of the weakness may relate to the poor performance in the third quarter of the Germany, its biggest foreign market. Should it pick up, as many expect, that would bode well. There were some positive figures out of Germany on Thursday, with unemployment falling to a record low.
Major central banks have acknowledged the signs of weakness, and it's given the European Central Bank something to digest before a Dec. 13 policy meeting when it's expected to cap bond-buying. There's also been a more dovish tone from the Fed after Chairman Jerome Powell opened the door for a potential pullback in projected interest-rate hikes for 2019.
At the Swiss National Bank, the latest surprise figures will probably reinforce the view that it's not yet time to move away from their negative interest rates.
"I think the export element is temporary," said Credit Suisse economist Maxime Botteron. Nevertheless, for the SNB the weak third-quarter is "definitely something they can mention in order to justify keeping policy expansive."
After previously clocking six straight quarters of expansion, Switzerland was forecast as recently as September to record its best growth in years in 2018, helped by stronger global demand and a weakening of the franc against the euro.
In Sweden, the report casts some doubt on the Riksbank's plans to raise borrowing costs as soon as next month. The quarterly contraction is the nation's first since 2013, although exports overall made a positive contribution.
"It was services exports that performed well, while goods' exports unexpectedly decreased," said Cathrine Danin, economist at Swedbank in Stockholm. "The Riksbank should be able to see that this decline is driven by temporary factors."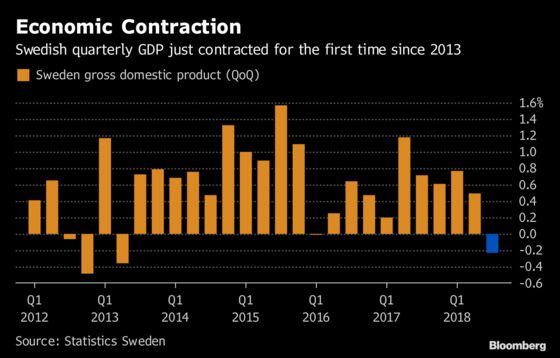 In Germany, output shrank in the third quarter for the first time since 2015 as the automobile industry was hit by new emissions testing. Euro-area growth slowed to 0.2 percent in the period, and in Switzerland there also had been signs that the fast pace of growth seen earlier this year might not be sustained.
| | | |
| --- | --- | --- |
| Swiss GDP |  2Q 2018 | 3Q 2018 |
| Household consumption |  0.2 |  0.1 |
| Government consumption |  0.2 | -0.1 |
| Equipment & software investment |  0.5 | -2.0 |
| Exports of goods excl. valuables | -0.3 | -4.2 |
| Imports of goods excl. valuables | -1.1 | -2.4 |
| Gross domestic product |  0.7 | -0.2 |
The SNB has been using negative interest rates and a pledge to wage currency market interventions, if necessary, to stem appreciation pressure on the franc. While it weakened to the key level of 1.20 per euro earlier this year, it's since strengthened to 1.13.
"The situation isn't one that allows central banks to press ahead," said Julius Baer Chief Economist Janwillem Acket. "You don't have to write off the year of 2018. It'll pick up, but it will be weaker than forecast."